Justin Pritchard's impressions
The economy may have just left many automakers crippled and bleeding, but most are steaming away from financial armageddon with some very relevant and exciting new hardware.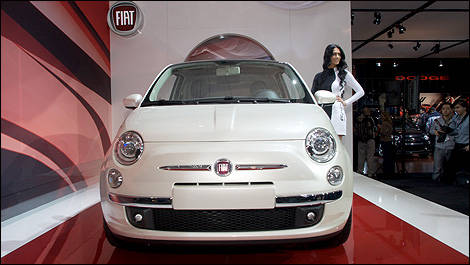 Fiat 500 (photo: Michael Wong)
GM, Chrysler and Ford all excitedly presented upcoming small cars that will aim to re-capture American market share and raise the bar in what's become a Japanese-dominated market.
The upcoming Ford Fiesta, Chevrolet Cruze and Chrysler/
Fiat 500
are all worth getting excited about. Brand preference aside, shoppers can expect a new kind of small car that's globally-leveraged to be exciting, stylish and affordable. Imagine that.
Ford showed off numerous new and refreshed models that are en route to showrooms soon. The refreshed
Edge
will be available with a two-litre EcoBoost turbo engine, and the new Lincoln styling language is sweeping across the lineup, too.
America's only non-bankrupt carmaker is on a bit of a technology rampage too-- and a pile of new driver interface and performance-enhancing features are in the pipeline.
Hyundai had a fantastic 2009 despite the economic doom and gloom, and their 2011 Sonata will carry the momentum forward. The new Sonata is coming soon with a new high-efficiency engine and styling inspired by some of the markets finest. It's also built to pack a healthy dose of the top-notch value that saw them grow sales by a recession-busting 20 percent last year.
Other notable presentations at the Canadian International Auto Show (CIAS) included numerous electric models, a plug-in Prius, and a 592-horsepower hybrid Infiniti concept called the
Essence
. It was, arguably, the sexiest body at the show.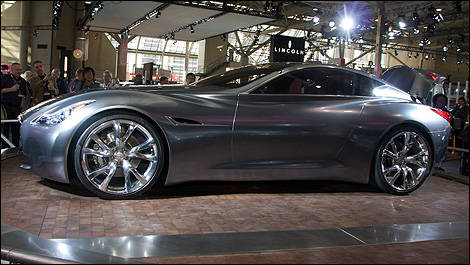 Infiniti Essence Concept (photo: Michael Wong)
Next to the gorgeous models, that is. Go see Antoinette at the Chrysler booth, and you'll see what I mean.
If this year's CIAS is any indication, it looks like new-car shoppers can start expecting more style, more power and less fuel consumption than ever before. Marketing fluff aside, there's an excited and optimistic group of people behind virtually every model on the floor. That's a good thing.