One of the best places to see how automakers are working through green issues is at a big auto show, like this one in Toronto. Where else do you see current production cars, future production cars, and concept cars are all crammed together under one roof?
So here's a quick "green tour" — our selection of Toronto show vehicles that best demonstrates the various paths the automakers are taking and/or considering for their green mandates…
Mazda RX-8 Hydrogen RE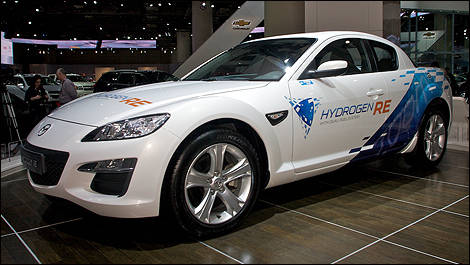 photo: Michael Wong
Not long ago hydrogen-fueled vehicles were heralded as the future stars of the green car movement. But lately they've been more on the sidelines, as electric cars get more and more stage time. Case in point,
Mazda RX-8 Hydrogen RE
, the only hydrogen vehicle at the show, and one that was introduced in 2009.
But it is a real vehicle, not a concept. Mazda leases them to customers in Japan. This past May, Mazda also started sending some to Norway, which seems more pro-hydrogen than other countries.
Mazda has always contended that the rotary engine is well suited to run on hydrogen. To address the scarcity of hydrogen fueling stations, the rotary engine can run on either hydrogen or gasoline.
Fiat 500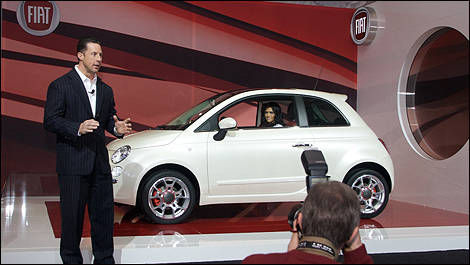 photo: Michael Wong
One definite way to go green is to go small. Chrysler has turned to parent company, Fiat, to get it some small. This was the
Fiat 500
's first official visit to Canada. Chrysler Canada president, Reid Bigland, said the North American Fiat 500s will be in Chrysler showrooms by the end of the year (show cars were current European versions). That subcompact segment will be an exciting one this year; in addition to the Fiat 500, it will also welcome the new
Ford Fiesta
and new Mazda2 (both also at the show).