As reported by Mercedes-Benz
No emissions, yet pure driving pleasure. The smart fortwo electric drive makes its Canadian debut at the 2010 Canadian International Auto Show. This technologically advanced two-seater is the first emission-free vehicle in the world with state-of-the-art lithium-ion technology and an intelligent charging management system on board. This makes the compact smart fortwo electric drive the first environmentally and customer-friendly electric vehicle, and continues smart's tradition of introducing innovative and intelligent transportation solutions that redefine mobility.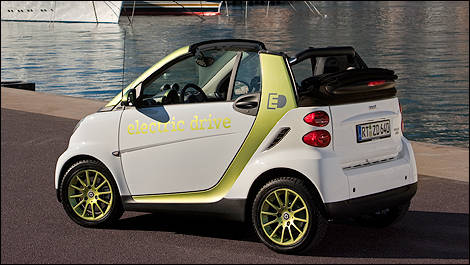 photo: Mercedes-Benz
"Environmental compatibility and the latest functionalities have been defining features of the smart fortwo since it was launched more than ten years ago. Since then, its innovative concept has combined pioneering technology to optimize urban mobility. The smart fortwo electric drive is just as convincing as its siblings with conventional drive when it comes to suitability for everyday use, safety and driving pleasure. In terms of environmental compatibility, it sets a new benchmark with its emission-free electric drive. In addition, with just 12 kwH consumption and its purely electric drive system, it is the most economical and environmentally-friendly way of driving," stated Dr. Thomas Weber.
The electric smart will be delivered to selected fleet, business and private customers around the world as part of various "e-mobility" projects. These customers will receive a complete service package for their vehicle thanks to a "full-service rental model." "In addition to state-of-the-art vehicle technology, we also want to provide our customers the best service possible – for us, this is an integral part of the concept of groundbreaking mobility," commented Harald Schuff, Executive Vice-President Mercedes-Benz Sales and Marketing Organization.
The key objective of these projects is to evaluate customer behaviour and specific support services. In addition to Germany, the electric smart will also be made available to customers in Italy, Spain, England, France, Switzerland, USA, and Canada in the fall of 2010.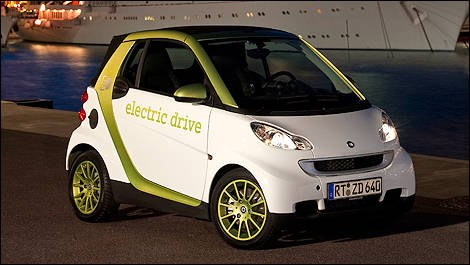 photo: Mercedes-Benz
photo:
Mercedes-Benz