The all-new
SLS AMG
replaces SLR as the flagship sports car from Mercedes-Benz.
It made its world debut at last fall's Frankfurt show, and its Canadian debut at last month's Montreal show.
Central Canada will get its first in-the-flesh look at this uber sports car at the 2010 Toronto show.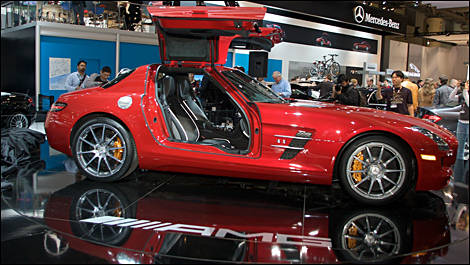 photo: Michael Wong
Its predecessor was constructed of much carbon fiber at McLaren facilities in England. The construction of SLS, however, is more Austrian/Canadian. Canadian auto parts giant, Magna, produces the chassis and aluminum bodyshell in Gaz, Austria, at a facility operated by the Magna division, Steyr Fahrzeugtechnik.
The 6.3-litre V8 engines are also hand built, by AMG in Affalterbach, Germany. The engine is positioned "mid-ship" and low, for optimum weight distribution and a low centre of gravity. It's hooked up to a 7-speed double-clutch transmission.
Final assembly is completed in Sindelfingen Germany. The first batch of cars will be ready in late March.
With over 570 horses on tap, and a curb weight of just 1,620 kilograms, Mercedes-Benz says the SLR will accelerate from 0 to 100 km/hr in 3.8 seconds. It has an electronically limited top speed of 317 km/hr.
Its lightweight also makes it relatively
fuel efficient
, at least by super-car standards. Expect about 13.2 L/100 km.
With its gull wing doors, wide grille, and wing-shaped cross fins, the 2011 SLS is obviously trying to link back to the legendary Mercedes-Benz 300 SL "gull wing" sport coupe of the mid-1950s.
Canadian prices start at $198,000.
photo:
Mercedes-Benz
2010 Mercedes SLS AMG