Celebrities rarely live through their time with as much flair and significance as Caroll Shelby. The former race car driver, the first American to ever win the
24 Hours of Le Mans
, also became known as the Father of the American muscle car. He is responsible for some of the most important and well-known automobile designs of the last century.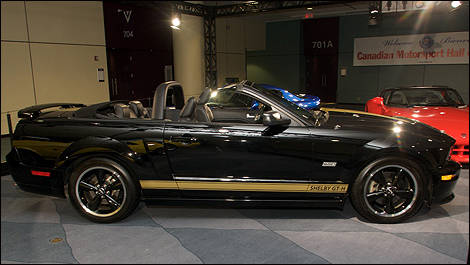 photo: Michael Wong
The Canadian International Auto Show in Toronto pays tribute to this automotive great, showcasing some of his famous early designs as well as inducting him into the Canadian Motorsport Hall of Fame.
Carroll Shelby himself, now 87, attended the show to receive this honour and assisted in the grand unveiling of the exhibit. Organizers also took the opportunity to put up one of the 2010 Mustang Cobra Shelby GT500s for auction, with proceeds going to two foundations, including the Carroll Shelby Children's Foundation. The vehicle was sold for the tidy sum of $107,000, but the guest of honour had to sweeten the pot with his famous black Stetson before the bids would go that high.
A spectacular exhibit
When Carroll Shelby decided to modify a little imported race car for his school and equip it with a Ford engine, he quite literally wrote a new chapter in history. This AC became the renowned Cobra, which continues to turn heads even today and still inspires Ford's contemporary designers, with the
2010 Mustang Shelby GT500
for instance.
But that's just one of the many vehicles on display at the Auto Show. In fact, the total value of Shelby's creations and other vehicles exhibited exceeds 45 million dollars.
Among them is the famous 1964 Daytona Coupe CSX2299, a unique coupe that was raced during the 1964 season and whose value alone is estimated at 7.25 million dollars. Inspired by a German design, it stands out with its original aerodynamic profile.
Visitors can also admire the Austin Healy 100s, one of the 55 cars built in 1954 by Aston Martin that the manufacturer used, with Shelby behind the wheel, to shatter speed records on the Bonneville Salt Flats.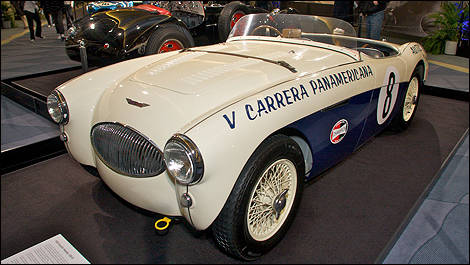 photo: Michael Wong