I've heard numerous times in my career that we city folks are not well-equipped to evaluate pickup trucks. Although I would have agreed with the naysayers up until recently, today, in 2011, I say nah! And here's why. These so-called work trucks have never been more civil, posh and comfortable. Unless specified with the very minimum levels of kit, pickups are now as luxurious as many luxury cars.
Case in point: my tested $65,000, 2011 Ford F-150 Platinum EcoBoost. For one whole week, I, my wife and many passengers were treated like royalty entering the Ritz Carlton and having every whim catered to.
Does this sound like any pickup truck you know of? I didn't think so. In fact, this Platinum proves that Ford's truck can clean up very nicely, however without ever forgetting its roots. Walk with me.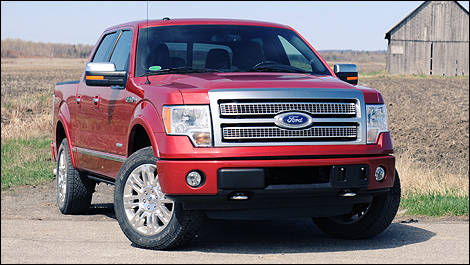 Case in point: my tested $65,000, 2011 Ford F-150 Platinum EcoBoost. (Photo: Matthieu Lambert/Auto123.com)
If you watched any amount of television before gas prices went to the birds, commercials featuring the
Ram
,
Silverado
and
F-150
were rampant. Biggest this, strongest that, most powerful and quickest to hard-boil an egg, these three are the best at whatever they do. Cutting through all the crap and stats, styling remains a very important selling point for buyers of these truck.
The order of things here has been clear for a number of years. The Ram's bad boy persona takes top spot, the Ford's debonair aura places it second and the GM's lost and timid look puts them good and last. This is, of course, my rating. Fact is, though, that only the Ford can get away, in the right trim, with being high-end.
Now, step up to the truck and unlock the doors with the remote. Had it been cold and wintery outside, I could have started the truck from the comfort of my home. Reach for the door handle, pull on it and a motorized running board pops out. That's right. Step on said board and slide yourself into the delightful cabin and on to the large leather perches.
Reach for the door handle, pull on it and a motorized running board pops out. (Photo: Matthieu Lambert/Auto123.com)