Typically formatted car reviews be damned! Every so often, your writer drives a vehicle so unique, curious and out of place that it attracts crowds at gas stations, at the gym and in coffee shop parking lots. Many members of said crowds ask the same questions repeatedly—and when that's the case, a simple 'Q&A' session often seems more appropriate.
For the first time, a car without exotic sculpting, six-figure pricing and 500-plus ponies packed enough curiosity-generating force to make your correspondent break from the normal format. Hopefully the boss won't be too upset.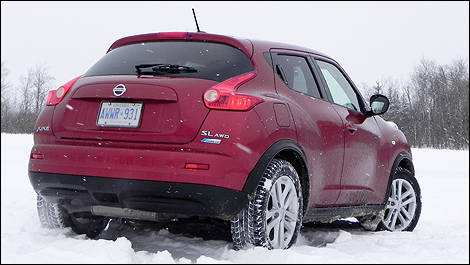 Juke's strange visage is a combination of elements from different vehicle types. (Photo: Justin Pritchard/Auto123.com)
Besides, Nissan wasn't too concerned about following a format with their latest machine, the
Juke
. Here are the most common questions folks had for your writer regarding the new small crossover—and the answers he had to reply with.
Q: Why does it look that way?A:
According to Nissan's Senior Vice President for Design and Chief Creative Officer, Shiro Nakamura, Juke's strange visage is a combination of elements from different vehicle types.
"The design shows real optimism by combining design elements from two genres to create a striking crossover that displays a genuine confidence and style. And those are qualities we also expect to find in a Juke customer" he said.
Cutting edge, contradictory and masculine were all key words in Nissan's press release regarding the Juke's styling. The London-designed, Japan-refined body is weird looking and different—and apparently that's just what the Juke's shopper is after.
It's strange at a glance, but on closer inspection, some unique details present themselves. Readers: check this machine out in person, as photos don't do the whole thing justice.
Q: Which of those lights is the headlights?A:
The big round ones on the middle of the bumper. The lights capping the front hood edges are signal lights, and the lower ones are fog lights.
The headlights are powerful and great on dark winter nights—though their inset placement low on the bumper means they easily collect salty wintertime road spray and dim out until cleaned.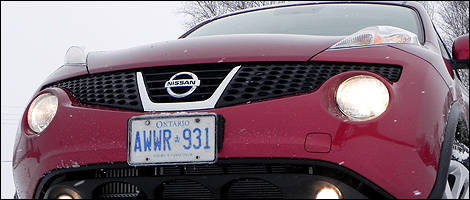 The headlights are powerful and great on dark winter nights. (Photo: Justin Pritchard/Auto123.com)