ARJEPLOG, Sweden
- Halo cars are making quite the return. Despite rising fuel costs and the frowns directed towards sporty and performance cars from "greenies" and old conservative folks alike, these sublime pieces of engineering and all things "car" are well and healthy.
Why, less than a dozen days ago, I went for a track stroll in the new
2013 Hyundai Genesis Coupe
, fresh from a strong revamp and some new-found power. This time around, I went way up to northern Sweden to sample the 2012 Volkswagen Golf R, the Ultimate Golf, and to get some driving lessons.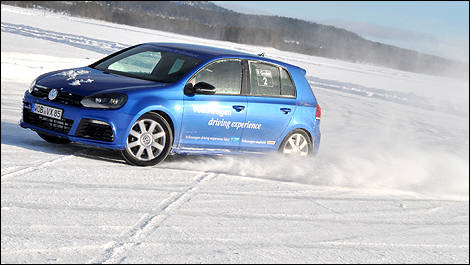 The car officially launches on March 15 and by mid-April, all 135 dealers across Canada should have their limited stock. (Photo: Mathieu St-Pierre/Auto123.com)
Yes, Canadian Volkswagen enthusiasts, the Golf R, the one that eluded us in its 4th and 5th generations is finally coming North. As you may already know, the previous Rs carried a "32" with it, defining its V6 engine's displacement. What made the car especially enticing were the promise of more performance from its 247-hp mill, AWD, special seats, improved brakes and so on. Some "grey-market" MKIV and MKVs did cross the border and if you're thinking about getting one, don't. Get the 2012 R.
GoodeR
The new R is the one wet dreams are made of. Gone is the "32" because the MKVI dumps 2 cylinders and 1.2L of displacement in exchange for a hot-dangin' turbocharger. Power climbs 9 hp to 256 and torque jumps by 7 lb-ft for a total of 243. Weight is down roughly 35 kg (77 lbs). These numbers are far from mind-numbing, but here's a stat from those concerned with the environment: fuel consumption has dropped by 15%.
So the 2.0 TSI is sweet. I did not get much street wheel time in Sweden but I did manage 45 minutes of driving at
IMPA Test Days
last Fall and combined, I can tell you a few things. First, throttle response is impressive. The 2.0T springs to life with the alertness of a meerkat spotting a predator not far from the family hole-in-the-ground. The sweet torque curve pops in at a tick over 2,000 rpm and will keep you grinning beyond the 5,000 rpm mark. Soon thereafter, all ponies are on call.
This car feels seriously quicker than the specs suggest. Expect 0-100 km/h times of 5.8 seconds.
Next, the super-slick 6-speed manual 'box (no DSG in Canada) is magnificently functional, properly geared and a joy to row. The light, easy action of the clutch adds to the satisfying level of driver involvement, an art soon to be lost. Even with my massive Columbia winter boots, I was able to manage heel-toe downshifts; there are no excuses for getting it right in this car!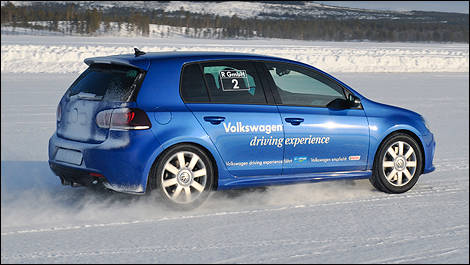 This car feels seriously quicker than the specs suggest. Expect 0-100 km/h times of 5.8 seconds. (Photo: Mathieu St-Pierre/Auto123.com)