Room for five, complete with Swedish style. The souped-up R-Design is powerful, but still has that elegant touch.
Understated Elegance
The Passion Red
2012 Volvo XC60 T6 AWD R-Design Platinum
looks good enough to eat. It's like a big apple I want to sink my teeth into. But to keep my dentition in place, I'll bite into it from a figurative sense: through its looks and capabilities.
Beauty is Skin Deep
The styling of the Swedish SUV, from the outside, is quite pleasant. Robust lines complemented with a svelte-ish physique allow for the 2012 Volvo XC60 T6 AWD to shine. The addition of the R-Design designation also means special features on the inside and out. There's a set of 20" "Cratus" wheels, and badges set it apart from all other XC60 trims.
Floating in thin Air
What I particularly like about the 2012 Volvo XC60 is the inclusion of a quirky, yet cool, centre stack. It floats! I kid you not. The thin and elegant panel has all the right buttons and they're easily recognizable as well. From climate options to Bluetooth pairing to audio commands, I love the setup and your hand can fit straight through the back. Want to scare your friends? Just grab their knee from behind the stack. It makes for a barrel of laughs, followed by some profanities.
Two-Toned
I worry about getting lighter-coloured interiors dirty, especially with dark-wash denim. So, a fair compromise is to have two-tone seats. You still get a dash of brightness, even if the upholstery is of a darker shade. The special R-Design seats in the 2012 Volvo XC60 T6 are dark with a splash of beige. The colour scheme works well with all the textures in the cabin -- not to mention, they are very comfy to sit in.
Seeing Blue
At night, when the instrument cluster is illuminated, it has a beautiful blue backlight. Mixed with the white, silver and red accent colours, it looks classy and to-the-point. I find sophistication in simplicity, a theme that runs through all Volvos.
Climate Control
This might seem like a fairly odd observation, but I really liked how there were so many levels of fan speeds in the 2012 Volvo XC60's cabin ranging from "gentle breeze" to a hurricane-like wind (OK, that's a little over the top, but you get my point). Sometimes, there are only five or six levels in vehicles, so finding a perfect fan setting can be tough. Not here. There are 18 on this baby! It's great. Whether I'd like to be toasty hot or cold, or just on the cusp of whatever temperature suits you, this 2012 Volvo has it covered.
Engine Prowess
The R-Design designation/trim means power, and a healthy dose of it. From its 3.0L, turbocharged, 6-cylinder engine comes 325 hp and 354 lb-ft of torque. Linked with a 6-speed automatic transmission, with a manual mode, the combination of the two are fairly potent. One thing I would have liked to see on the 2012 Volvo XC60 T6 AWD R-Design is a set of paddle shifters. I feel it would help driver and machine better connect. It's not a deal-breaker, especially for those who wouldn't necessarily use the feature, just more of a "wish list" item.
Safety With a Capital S
Volvos are known for their safety. So, it's no exception that there are a host of standard features to keep you and your loved ones in one piece whenever possible: Four-wheel disc brakes, ABS with Hydraulic Brake Assist (HBA), Dynamic Stability and Traction Control (DSTC) are just a few items on the list. Then there are the added safety features like the optional Technology Package ($2,100). This adds such devices as Distance Alert (DA), Lane Departure Warning (LDW), Adaptive Cruise Control (ACC) with Queue Assist, and more. Of course, life sometimes deals an unfair hand of cards, but the 2012 Volvo XC60 T6 AWD R-Design will try and be as fair as it can be to you.
Go Anywhere, Sort of
Volvo's Electronically Controlled All-Wheel Drive System with Instant Traction is included as part of the package. Transferring power to the various wheels where needed can mitigate slippery situations. Whether romping around in the rain, snow or sunshine, the 2012 Volvo XC60 T6 is ready for a challenge. And when behind the wheel, the sport-tuned suspension gives it that edge you'd want without the chiropractor visits!
Pricing
The 2012 Volvo XC60 T6 R-Design Platinum has a base MSRP of $59,095.
This
2012 Volvo XC60 T6 AWD R-Design Platinum review
was originally published on Auto-Venus.com.
2012 Volvo XC60 T6 AWD R-Design Platinum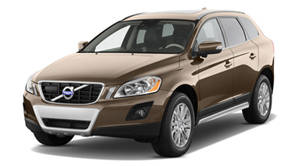 2012 Volvo XC60 T6 AWD R-Design Platinum