Pros and Cons*
Pros
Surprisingly superb combination of comfort and driving pleasure, precise steering, leading-edge technology, choice of powerful engines and impeccable fit and finish are a few of the strong points of the 2013 BMW X6.
Cons
Limited visibility, thirsty engines, cumbersome size and weight as well as its limited cargo room spoil some of the charm.


Price
The BMW X6 xDrive 35i starts at $66,800.
The selling price of the xDrive 50i starts at $82,200.
The X6 M version has a $102,900 MSRP.
* These prices apply to 2014 models
Fuel Economy
Fuel economy ratings for the 6-cylinder engine are estimated at 13.1 L/100 km city and 8.6 L/100 km highway.
The V8 powered xDrive 50i consumes 15.3 L/100 km city and 9.9 L/100 km highway.
The powerful (and thirsty) X6 M consumes an estimated 16.9 L/100 km city and 11.9 L/100 km highway.
Exterior Styling
The muscular X6 is built from the X5 platform design. The chopped-off styling of its steeply raked rear end and the dual-exhaust tips combine with its muscular front end to create a truly unique vehicle. The M version has quadruple exhaust tips and 20-inch wheels.
Drivetrain
The xDrive35i is powered by a 3.0 litre turbocharged inline 6-cylinder engine that produces 300 hp and 300 lb-ft torque.
Under the hood, the xDrive 50i has a twin-turbo V8 that produces 400 hp and 450 lb-ft torque.
These first two engine choices deliver power to the wheels through an 8-speed automatic transmission.
The ferocious X6 M has a twin-turbo 4.4 litre V8 lurking under its hood that can churn out 555 hp and 500 lb-ft torque.
It delivers this power through a 6-speed automatic transmission.
Cargo Capacity
The BMW X6 can hold between 70 and 1,450 litres of cargo.
Safety
This model is equipped with six standard airbags and a variety of active and passive safety features.
Comparable Models
Acura MDX
, Audi Q7, Cadillac SRX, Infiniti FX, Land Rover LR4, Lexus RX, Mercedes-Benz M Class, Porsche Cayenne,
Volkswagen Touareg
, Volvo XC90
X6M :
Mercedes-Benz ML63 AMG
, Porsche Cayenne turbo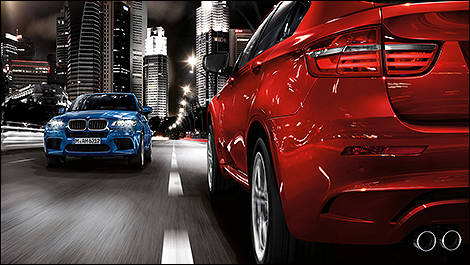 Photo: BMW
*References
Crépault Michel, L'annuel de l'automobile 2013, Montréal Transcontinental, 2012, p.144
Duquet Denis, Le guide de l'auto 2013, Montréal, Les éditions de l'Homme, 2012, p.180
www.bmw.ca
2013 BMW X6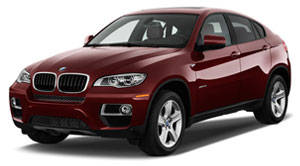 2013 BMW X6 M