Highlights
A comfortable driving position, good ride quality, and generous cargo room* make the 2013 Chevrolet Cruze a desirable compact sedan.
Lowlights
Unlike the Honda Civic and Ford Focus (two of its biggest competitors), the Cruze makes do with a semi-independent rear suspension. Meanwhile, the standard 1.8L 4-cylinder engine under the hood proves quite thirsty around town: 9.2L/100km with the automatic transmission, and 8.2L/100km with the manual gearbox.
Pricing
The 2013 Chevrolet Cruze ranges from $16,795 to $28,345 (including freight and delivery charges). The more fuel-efficient Turbo model starts at $21,235.
Fuel consumption
The base 1.8L engine achieves a combined 6.9L/100km with the manual transmission, and 7.6L/100km with the autobox.
The 1.4L turbocharged variant burns an average of 6.6L/100km. In Eco trim, this number drops to 6.0L/100km (manual) or 6.5L/100km (automatic).
Model-year info
The Cruze was launched in 2011, and returns with no major changes for 2013 other than the available MyLink infotainment system.
Styling
The 2013 Chevrolet Cruze has a friendly face that proudly displays the brand's signature split grille. It definitely boasts modern flare with looks that will likely age well.
Cargo capacity
The trunk can swallow up to 425 litres of stuff. Among all compact sedans, only the Volkswagen Jetta offers more cargo room (440 litres).
Powertrains
Buyers have a choice of two 4-cylinder engines including a 138-horsepower 1.8L mill, and an equally powerful 1.4L turbocharged unit that produces 148 lb-ft of torque instead of just 125.
Safety
With class-leading 10 standard airbags and many additional safety features, the 2013 Chevrolet Cruze has received the NHTSA's highest safety rating.
Advice
The turbocharged Chevrolet Cruze Eco stands out with a lighter overall weight, low-rolling resistance tires, an Aero package, and specific programming for the manual transmission that contribute to a 10% gain in fuel economy, making this model attractive for many customers.
Competitors
Dodge Dart
,
Ford Focus
,
Honda Civic
,
Hyundai Elantra
,
Kia Forte
,
Mazda 3
,
Nissan Sentra
,
Subaru Impreza
,
Toyota Corolla
,
Volkswagen Jetta
.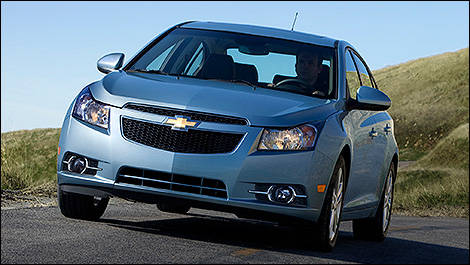 Photo: Chevrolet
References
* Testimonies
Bouchard Jean-Pierre, L'auto 2013, Montréal, Les éditions La Presse, 2012, p.178

Aubé Vincent, L'annuel de l'automobile 2013, Montréal Transcontinental, 2012, p.174

** Insurance: ''L'Annuel de l'automobile''. Typical case: Three age groups (25, 40, 60). The insured driver lives in the Greater Montreal area, and travels 20-30 kilometres a day. No accident to report in the past five years. Deductible: $250. Civil liability: $1 million. Taxes included.