The Riverside Speedway in Ste-Croix, Quebec, hosted the fifth round of the 2013 Drift Mania Canadian Championship (DMCC) over the weekend. And it started off with a
TOP 32
including all the Pro drivers and a few others from the Pro Am Class.
The practice and qualifying sessions as well as the competition itself all took place on Saturday.
Jeff Laflamme, who's had his fair share of troubles this season, became the highest-scoring qualifier, followed by Kevin Morin and Alex Michaud.
Dave Briggs
and Jonathan Guitard both trailed the trio by a single point; the former earned the fourth spot thanks to a higher entry speed.
Overall, 28 drivers managed to get a score.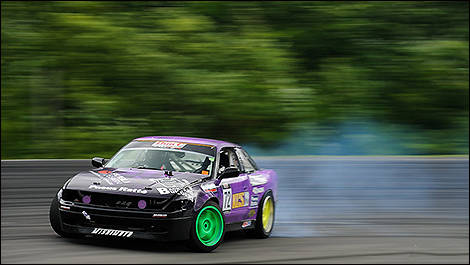 Photo: Antoine de Cardaillac
Heated battles... and some damage
During the Top 32, many drivers suffered from mechanical failures. Martin Langlois, Alexandre Blanchette, and Alex Gosselin all had to quit. Two One More Times were necessary for François Pérusse to beat Eric Warnet and advance to the Top 16.
Jeff Laflamme's promising day ended at this very stage when Tanner Munson got the better of him.
Pat Cyr
also failed to advance as Eric Paradis moved into the Top 8.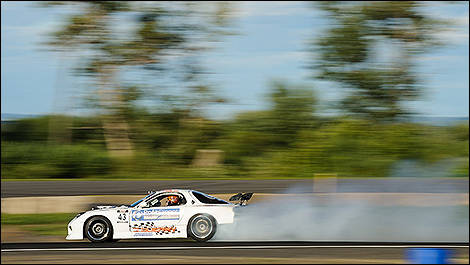 Photo: Antoine de Cardaillac
Youri Lévesque stands out
Two talented Pro Am drivers duked it out in the Top 16. Following a loss of control by Jonathan Guitard, Youri Lévesque became the only member of the Pro Am Class to reach the Top 8. Unfortunately, he was outraced by the highly experienced Dave Briggs.
Meanwhile, Francis Tassé drifted his way to the final stage by besting Claude Poirier in the Top 16, Patrick Gauthier in the Top 8, and Vincent Théberge in the Top 4.
Briggs defeated Munson to take on Tassé for the title. Munson went on to surpass Théberge to secure third place, while Briggs needed four laps to eclipse Tassé and be crowned the winner in Ste-Croix.
On a side note, crowd favourite
Marc Landreville
failed to take part in the competition due to lingering engine problems. Hopefully he'll bounce back in the next round, which is set for August 17th at Autodrome de Montmagny.
For more information, visit
www.dmccdrift.com
.