Currently leading the 2013 Drift Mania Canadian Championship (DMCC) standings, Maxim Lemoine isn't the most experienced driver out there, having joined the DMCC only a year ago in Pro Am Class. Now, he's taking on the best drift racers from the Pro Class, and his first place in 2013 (one tiny point ahead of
Marc Landreville
is definitely something to be impressed with.
You can easily spot Lemoine on the track thanks to his 1999 Chevrolet S-10 pickup. Here's what he had to say after the
fourth round of the 2013 DMCC
in Victoriaville, Quebec.

Marie-Laurence Paquin (Auto123):
How did you start drifting?
Maxim Lemoine (ML):
I bought my truck when I was just 15, and didn't even have my driver's licence yet. A year later, I was drifting all the time in empty parking lots, practicing my clutch kicks, and loving it. I attended a few DMCC events and wanted to be a part of it. I tried to sell my truck to buy a Silvia, but it didn't work out, so I decided to turn it into a drift car. I said to myself: "I learned how to drive with this truck; now, I'm going to win races with it!
I started the tuning process six years ago. Every penny I earned -- and a few more I borrowed -- went into it. My parents helped me a lot so that I could live my passion. In 2011, I took my truck to the track for the first time, and I performed minimal tests as part of the 418 Drift Days. It was still a prototype -- an ugly black-and-yellow prototype with a welded suspension!

Auto123:
What drove you to enter the DMCC Pro Am Class in 2012?
ML:
During the 2011-2012 off-season, I modified just about everything by myself: the engine, the chassis, and so on. At the time, entering the Pro Am Class cost $800. I was very motivated, and I worked hard to get the cash.
My first-ever competition took place on a rainy day, but since I was so used to drifting in the snow it felt easy and I actually won. The truck drove on worn-out rubber, so I invested my $1,000 prize into a brand new set of tires. And what do you know? I won the second round, too! I couldn't believe it. Unfortunately, I finished 12th in the next event, which hit me really hard. Still, I managed to post good results over the remainder of the season and became the Pro Am champ!

Auto123:
What modifications did you make to your Chevy this past winter?

ML:
Well, I replaced the engine with an LSX 454 developed by Chevrolet Performance. It generates 700 horsepower. Then, I fitted wider tires and wheels to enjoy a better grip, and I changed the suspension following my crash in Montmagny late last year. I also had the truck repainted.
Auto123:
Do you think it's harder to modify a truck than a car?

ML:
No, not really. It's all manual work. I have leaf springs in the rear and adjustable coil over shocks up front. If drift racing with a big truck like that was a real handicap, I wouldn't be leading the DMCC!
My top priority is reliability. It's a lot less stressful during the competitions: I see other teams scrambling to repair and adjust their cars, while it's smooth sailing from where we stand.
Auto123:
Tell me, what's your goal for this season?
ML:
Back in the spring, my goal was to qualify in each round and keep progressing from the Top 16 to the Top 8 and then the Top 4. I never really aimed for the podium. Of course, after finishing 8th in Montmagny to kick off the season, I
won the next round in St-Eustache
! With my second place in Ste-Croix, I needed to revise my plans.
Between you and me, I would love to win the championship, but sometimes I think it's next to impossible. I'm still a rookie in the Pro Class, after all. I go up against drivers who've been doing it for 10 years -- guys like
Pat Cyr
, my childhood idol, whom I almost beat after a "One More Time" at the beginning of the season. Going neck-and-neck with him was surreal!
The amount of time I spend on the track gives me an edge. Beyond the competitions, I train and practice at least a dozen times throughout the season.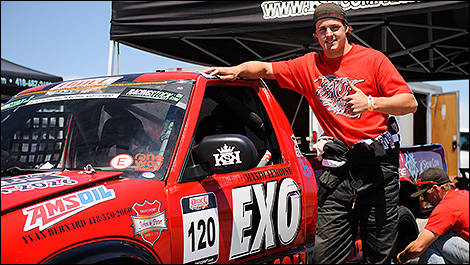 Photo: Antoine de Cardaillac