Ontario's Pat Cyr has become a living legend in the world of drifting. He's been competing in the Drift Mania Canadian Championship (DMCC) since 2007, and is always looking for new adventures and responsibilities, like hosting the
Scion Tuner Challenge
.
Cyr now drives a
Scion FR-S
, a rare specimen among the cars modified for drift racing. Playing the role of a pioneer is never easy, and his 2013 season so far has proven both rewarding and frustrating.
I caught up with him recently, and we talked at length about his accomplishments and future projects.
Marie-Laurence Paquin (MLP):
How did you discover drifting and wind up in the DMCC?
Pat Cyr (PC):
Like just about everybody else, I started drifting in the snowy parking lots around my hometown of Mississauga, Ontario. A few years earlier, I took part in autocross races with a Corolla AE86, which I bought when I was 18. Now I'm 30, and I still drive this car -- only for drifting!
I heard about the DMCC in 2006. I attended a few events with buddies. I loved what I saw, and I immediately wanted in. A year later, I geared my car up for the whole season.
MLP:
At the beginning of this season, you stuck with your old Corolla AE86 and actually won the first round. Did you run into some problems prepping your Scion during the winter?
PC:
Yes, I did. My new car wasn't ready for the start of the season. We did plenty of tests in the spring, but we didn't get enough track time. There were a few adjustments left to do. Rather than risking some mechanical problem, we decided to go to Shannonville to perform more extensive tests and get the Scion ready as fast as possible.
MLP:
Did you have to wait for parts to arrive or was it just a lack of track time?
PC:
Nobody had ever modified a Scion FR-S like that. Therefore, we started from scratch. Production delays are normal, you know. Manley Performance, our engine partner, still did an excellent job. Now, I have to adjust my driving techniques, especially my steering inputs, since the old Corolla didn't have electric power assist.
MLP:
How powerful is your new engine?
PC:
It cranks out nearly 550 horsepower, which is a pretty incredible figure to get from the stock engine. The foundation is still the same, but everything else has been completely upgraded. I can even say it's the world's most powerful Scion FR-S with a stock engine!
MLP:
Do you have any particular goals for 2013?
PC:
With the Corolla, my goal is to win, but with the FR-S, it's hard to predict. We'll see how it goes, and we'll make adjustments as the season progresses.
One of my main goals is still to win the championship. I've already finished second overall three times -- always by just a few points. I want to be No. 1. Of course, I know it's going to be a bit more complicated with the new car. If I can't do it this year, then it'll be next year.
MLP:
Do you intend to participate in the U.S. Formula Drift Championship?

PC:
Not this year. We'll adjust to the new car before crossing the border. Competing in Formula D is so expensive and time-consuming. I'm pretty busy with my shop this year, so it'd be impossible. Maybe next year; I would certainly like that!
Honestly, though, I love the DMCC. The fans are awesome. Most drivers don't seem to realize how much this championship has to offer. We spend lots of time on the track, there are no registration fees, and the prizes are impressively generous.
MLP:
Okay, let's talk about your shop...
PC:
Well, I have a background in mechanics, and I recently opened my own shop called Cyrious Garageworks. When I signed with Scion, I decided to run my own business, which gives me more freedom. I don't do a lot of advertising; it's more word-of-mouth.
We're just three in there: My brother, a friend, and myself. It all runs smoothly -- so smoothly in fact that I'm thinking about hiring an extra set of hands pretty soon. We accept any project that turns us on, whether it's performance tuning or restoration work. Right now in the shop, we have a 1965 Mustang and a 1988 RX-7. We do everything, save for body painting!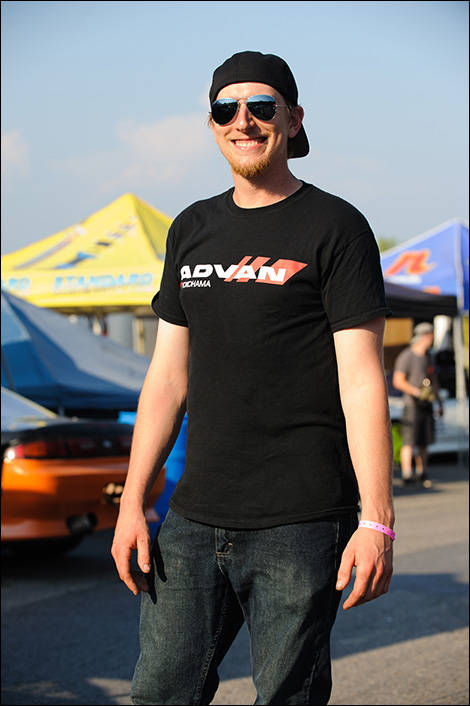 Photo: Antoine de Cardaillac