There were plenty of fans in Victoriaville around the specially designed track for the 4th round of the 2013 Drift Mania Canadian Championship. Day 1 allowed the drivers to get familiar with the venue, while Day 2 turned out to be a memorable show that met all expectations, both in Pro and Pro Am Classes.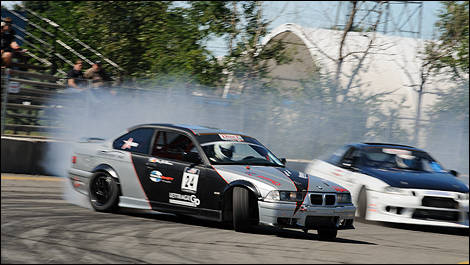 Photo: Antoine de Cardaillac
Alexandre Blanchette, first Pro Am qualifier
During Saturday's practice sessions, 3 Pro Am drivers stood out including Alexandre Blanchette, François Pérusse, and Jonathan Guitard. As a matter of fact, they also earned the most points during the qualifying period that took place in the afternoon.
Maxime Cyrenne, who sat in 4th place in the DMCC overall standings, failed to qualify for this round.
Tougher times for the Pros
A number of Pro Class drivers ran into mechanical problems over the weekend. Vincent Théberge had to change his turbo in a hurry on Saturday night in order to take part in the qualifying session, while Alex Michaud suffered from transmission issues and couldn't advance.
Dave Briggs
hit the wall early on Saturday, but he managed to repair his car on site. Unfortunately, his differential died as he was warming up his tires to return to the track. This, of course, meant that the Round 3 winner would not repeat.
After hitting a wall last week, Jeff Laflamme had to replace the entire tail of his car. Amazingly, things are going even better now!
Pro qualifications postponed to Sunday
Due to bad weather, the Pro Class qualifications took place on Sunday morning.
Marc Landreville
, Francis Tassé and Jeff Laflamme got the 1st, 2nd and 3rd place, respectively.

Gonzalo Diaz wows in Pro Am Class
The 15 Pro Am drivers put on an excellent show. First, in the Top 16, Paul Alexandre Cristea and Bradley Paauw required 2 additional laps before the latter advanced to the Top 8. Meanwhile, the battle between Martin Langlois and Gonzalo Diaz, and the one pitting François Pérusse against Youri Lévesque, were quite spectacular -- much to the excitement of the crowd.
In the end, rookie Jonathan Guitard took on Alexandre Blanchette in the small final, and the former posted the better score to clinch 3rd place.
Pérusse gave it all during the final duel, but he could not prevent Gonzalo Diaz from securing his first-ever DMCC win.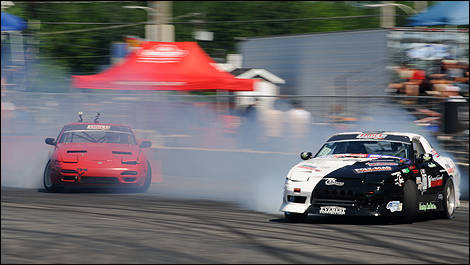 Photo: Antoine de Cardaillac