What is the 2013 Ferrari 458 Italia/Spider?
The
Ferrari 458
is the Italian prancing horse's stable MVP. As the one that has replaced the F430, the 458 carries on the traditional mid-engine V8 setup.
On the styling front, Ferrari pooled some of its latest, greatest creations and mixed in a dose of Enzo to create this ultra-aggressive looking car that leaves all with their jaws on the floor. The drop-top Spider features a retractable folding hard-top that lowers in only 14 seconds.

2013 Ferrari 458 Italia/Spider powertrain
The 458 is fast -- real fast. The direct-injection 4.5L V8 generates no less than 570 hp and 398 lb-ft of torque. The red line is a stonking 9,000 rpm. Factor in its relatively lightweight construction at 3,042 lb (1,380 kg) and you have the fastest "normal" Ferrari ever!
That's right folks! The Enzo trumps it by only 0.1 seconds in the sprint to 100 km/h. To clarify, we indicated normal in quotations as more than 399 (or 400 apparently) of them will be assembled.
So, the 458 reaches 100 km/h in only 3.4 seconds... Top speed? 202 mph (323 km/h)! We know the Italia is quick, but did you know that this is the first production V8 Ferrari to reach and surpasses the 200 mph barrier?
Helping Ferrari's new mid-ship V8 stallion achieve these fabulous numbers is the same 7-speed dual-clutch gearbox that does duty in the California. As with its predecessor, the 458 is assembled on an aluminum structure that is instrumental in keeping weight down.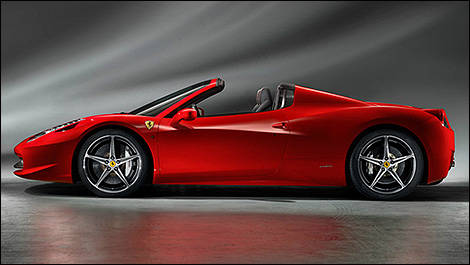 Photo: Ferrari
The low curb weight works in conjunction with reduced internal friction within the V8, not to mention considerable aerodynamic drag improvements. This all translates into an appreciable fuel consumption average of 17.1 mpg (US) or 13.8 L/100 km. Remember: this is a high-powered supercar...
A specific output champion (127 hp per litre) complete with hard-core aerodynamics and massive braking power (62 [100 km/h] to zero in just 107 feet [32.6 metres]) have made it a highly desirable collectable Ferrari.
2013 Ferrari 458 Spider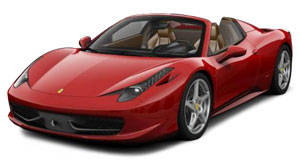 2013 Ferrari 458 Italia