Pros and Cons
Pros
The
2013 Maserati Quattroporte
is fresh off a complete makeover that has brought the car's styling into the modern age. The trident that adorns the car's impressive grille is a sign of sophistication and excellent taste. This Italian luxury flagship is a symbol of worldly elegance and is now available with AWD, a sign that it is now ripe for the world market at large.

Cons
Reliability issues are a given with these high-priced exotic Italian cars.
Price
Base price for the 2013 Maserati Quattroporte starts in the vicinity of $130,000.
Exterior styling
The new longer Maserati Quattroporte is an evolved and modernized car over the previous model. From the famous, recognizable and now larger front grille, the car's muscular curves, sitting atop standard 19" wheels, now promise power to go along with Italian elegance.
The distinctive headlights are literally part of the front fenders that are also adorned by the famous three air vents located between the front door and wheel.
The rear end features LED taillights that are immediately noticeable as are the brushed steel trapezoidal tailpipes. The integrated rear spoiler adds a touch of aerodynamics to what is decidedly a beautiful car.
Inside
The cabin is slathered in the finest leathers. The lounge atmosphere that reigns inside the car is amplified by extreme luxury and soft surfaces. The interior is highly customizable through a number of different colour combinations.
As an exotic, the Quattroporte features every desirable option and piece of technology. The car's ergonomics are graceful and functional. The dashboard is highlighted by the Maserati Touch Control 8.4" display. The seats are supremely comfortable and rearseat legroom is limo-like.
Cargo capacity
The 2013 Maserati Quattroporte boot has a useable volume of 530 litres.

Powertrain
The Maserati Quattroporte S is powered by a twin-turbo 3.0L V6. It produces 410hp and 406 lb-ft (550 Nm) of torque. It reaches 100 km/h in 5.1 seconds. The S Q4, with AWD, shaves 0.2 seconds off that mark.
The Maserati Quattroporte GTS is powered by a twin-turbo 3.8L V8. This engine provides the car with 530hp and 524 lb-ft (710 Nm) of torque in overboost. The tonne is reached in 4.7 seconds.
Both engines are mated to an 8-speed automatic transmission.
Safety
All manners of airbags and electronic nannies are standard on the 2013 Maserati Quattroporte.
Comparables
Porsche Panamera
,
Audi A8
,
Jaguar XJ
,
Aston Martin Rapide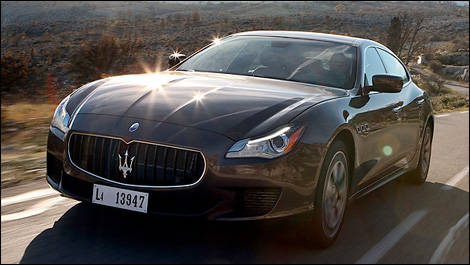 2013 Maserati Quattroporte (photo: Maserati)
2013 Maserati quattroporte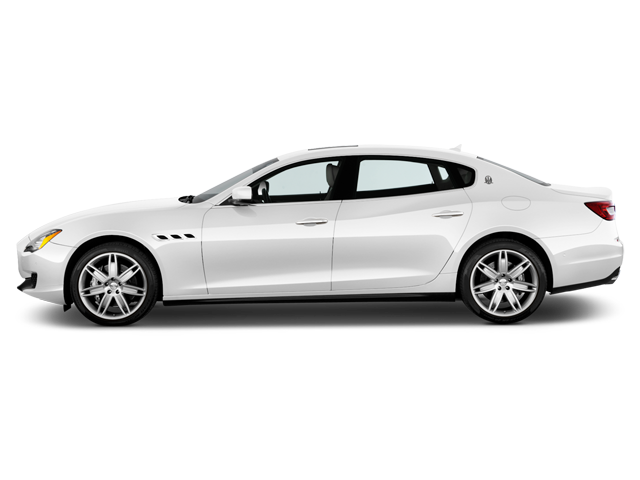 2013 Maserati quattroporte