CALISTOGA, Ca -
We've long since left the lush benevolence of the lovely Napa Valley behind, and the higher we climb the more hauntingly desolate the landscape appears. Jagged cliffs tumble down to the rolling grey ocean far below, as we stand shivering in the damp, misty air.
This is not what I pictured while packing for California. If this was a convertible launch, it would suck, mightily -- fortunately we have the warm cabin of the
2013 Nissan Pathfinder
to retreat to. Although we've come to expect heated seats as a matter of course, the Pathfinder comes with two rows of them and -- hallelujah! -- a heated steering wheel to boot.
Maybe it's time I took a refresher course in large, people-moving vehicle nomenclature since the 2013 Nissan Pathfinder has once more become a unibody (like the 1996-2004 model) instead of the previous model's body-on-frame construction. I'm confused because the spec sheets still refer to it as an "SUV" instead of a "CUV."
Apparently, the 4th generation Nissan Pathfinder's revised structure reflects "the shifting needs" of consumers, with better handling and fuel economy that such a car-based layout provides. In other words, it has followed the demographic out of the hills and away from the truck-based, off-roader and into the suburbs with a more refined pavement pounder. However, with a 2,268 kg tow rating, and locking centre differential in AWD-equipped vehicles, the 2013 Nissan Pathfinder is still capable of recreational fun on the weekends.
Less boxy off-roader, more stylish urban pavement pounder
Our ascent to the top of the cold and lonely hill proved that the 2013 Nissan Pathfinder can still clamber up an incline, although the course was more "soft-roader" than hardcore. It was barely breathing hard as we reached the summit, absorbing bumps and potholes admirably, although there was more "lateral toss" than a true off-roader would exhibit.
Along with its change in character comes a more stylish, urban exterior instead of the rugged, squared-off masculinity of the outgoing Nissan Pathfinder model. Its new aerodynamic shape features soft curves and sharp character lines, a sculpted rear end, and a lower ride height (favouring convenience over obstacle clearance). Although it's 2 inches longer than the outgoing model, with much more interior space, the new 2013 Nissan Pathfinder is 227 kg lighter than the model it replaces. And it now boasts third-row seating.
Instead of that extra row representing a cramped penalty box relegated to kids and those capable of clambering up and over the second row, it's easily accessible thanks to the "Easy-Flex seating system" featuring a second-row seat that glides forward with one quick motion -- even when there's a child seat installed. It's not as voluminous as the family minivan, but the Pathfinder does boast best in class leg and head room and 2,245 litres of total cargo volume.
A host of civilized technology
Further proof of the 2013 Nissan Pathfinder's new-found urban civility lies in the list of standard technology that it houses.
Nissan's "
Around View Monitor
" should be required equipment on all big-bottomed utility vehicles for rendering complicated back-up manoeuvres a piece of cake. There's also an available "tri-zone" entertainment system (providing blissful silence for long-suffering parents), the aforementioned heated steering wheel, first- and second-row seat warmers and front seat cooling (or "seat-colders" as my driving partner referred to them).
Properly inflated tires help save fuel, and the "Easy-fill tire inflation system" will honk the horn to let you know when the Pathfinder's are filled to their required psi. An available 8" touchscreen monitor and nav system features 3D-effect graphics, while a premium 13-speaker Bose audio system provides decent background music.
Underhood, a 3.5L V6 puts out 260 hp with 240 lb-ft of torque. The 2013 Nissan Pathfinder's engine is mated to a newly developed CVT. We know, continuously variable transmissions are the kiss of death to the driving enthusiast, but Nissan's had 20 years to get these right and this one, the FK-K2, is purported to be the most technically advanced of its kind. Certainly, we noticed little lagging or moaning (from the gearbox) during our day spent with the Pathfinder.
More importantly, its efficiency helps contribute to the 2013 Nissan Pathfinder's class-leading fuel economy of 10.5L/100 km city, 7.7L/100 km hwy -- or 9.3L combined in front-wheel drive models and 10.8/7.9/9.5 in AWD vehicles. By comparison, the
Honda Pilot
rates 11.8/7.8/10.0 and the
Toyota Highlander
, 10.4/7.3/9.0.
Comfortable and well-sorted
Over a drive route consisting of winding coastal roads, highway and a bit of light off-roading, the Pathfinder proved well-sorted and comfortable, if not exactly exciting. The handling is predictable, there's little road noise and (once we dropped the rear seats with their intruding headrests) visibility is quite good. Overhead is a huge panoramic sunroof that adds to the openness of the cabin.
In all, it adds up to quite an agreeable package: less weight, less fuel and (with $8,000 shaved off the price vs. the outgoing model) less expensive.
The Pathfinder should arrive in Canadian showrooms late October/early November.
2013 Nissan Pathfinder S 4X2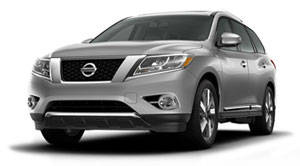 2013 Nissan Pathfinder S 4X2