•Now available with a turbodiesel engine
•Convenience Package now standard
•New MMI interface
•Latest Quattro AWD system
2014 Audi A8 – Price
The A8 3.0L TDI starts at $94,600, while the base price for its stretched-wheelbase model, the A8L, is $102,100.
With a 3.0L TFSI engine, the cost drops to $89,900 or to $97,400 for the L model.
If you want a 4.0L TFSI engine, you'll have to shell out $106,700 or as much as $114,200 for the A8L 4.0T.
Equipped with a W12, the A8L retails for $172,000.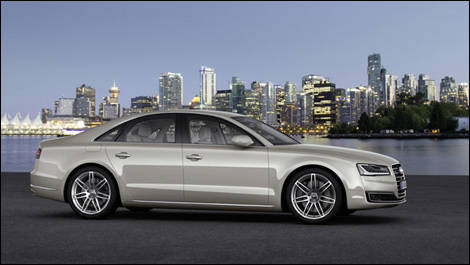 Photo: Audi
For more on the 2014 A8 Audi, be sure to read:
2013 Audi A8 Test Drive