Pros:
A lightweight and rigid Audi Space Frame combines with the legendary quattro all-wheel drive system to deliver surprisingly lively handling. The adaptive air suspension ensures top-notch ride quality, and the lavish interior oozes with refinement and comfort (18-way adjustable seats, anyone?). The dynamic-looking and extremely classy 2014 Audi A8 also offers a long-wheelbase variant with more passenger room in the back, as well as unique engine options that either boost fuel economy or power.
Cons:
The high price (relative to most competitors) may discourage some buyers, while others still won't be fans of Audi's MMI interface. It's also possible that the exterior looks are too understated for your liking. Finally, the trunk is relatively small for a full-size sedan.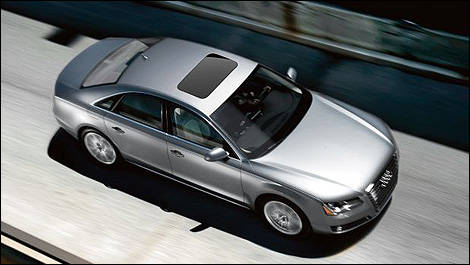 Photo: Audi
2014 Audi A8 Price:
The standard A8 escalates from $90,700 (3.0T) to $108,000 (4.0T), with the A8 TDI ($93,900) sitting in between. Long-wheelbase models range from $98,200 (3.0T) to a whopping $173,000 (W12). Various options and packages can increase the final tally.
2014 Audi A8 Fuel Economy:
In its most frugal trim (TDI), the 2014 Audi A8 burns 8.7L/100km in the city and as little as 5.3L/100km on the highway -- with the big tank, you'll easily cover more than 1,200 kilometres. Conversely, the W12-powered, long-wheelbase A8 has ratings of 16.4L/100km in the city and 10.8L/100km on the highway

Improvements and Changes:
An already strong engine lineup enters a new dimension with the arrival of a 3.0L, direct-injected, turbodiesel (TDI) V6 that provides heaps of torque and, more importantly perhaps, big fuel savings. Subtle design tweaks and option changes are part of the mix, too.
Powertrain:
A well-calibrated, 8-speed automatic transmission and all-wheel drive are standard equipment on every Audi A8. Audi Drive Select allows you to adjust throttle response, steering, and suspension feel.
The base 3.0L supercharged TFSI V6 produces 333 horsepower, the mid-range 4.0L turbocharged TFSI V8 develops 420 horsepower, and the almighty 6.2L W12 engine cranks out 500 horsepower. Last, but not least, is the aforementioned TDI unit, which generates only 240 horsepower, but as much as 406 lb-ft of torque.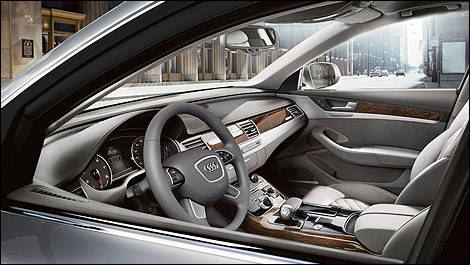 Photo: Audi
Cargo Capacity:
The 2014 Audi A8 has a 374-litre trunk, and the rear seats do not fold down.
Safety:
In addition to standard features like an electronic stability program and a full suite of airbags, the 2014 Audi A8 can be equipped with adaptive cruise control, advanced parking assist, and even a top-view camera. Other options such as LED headlights with high-beam assist and a night vision system improve visibility.
Comparing the 2014 Audi A8:
The full-size luxury sedan market boasts some pretty big names including the Mercedes-Benz S-Class, BMW 7 Series, Jaguar XJ, and Lexus LS. Let's not forget more affordable alternatives like the Acura RLX, Cadillac XTS, Lincoln MKS, and Hyundai Equus.