Now we're not certain whether GM pays out bonuses upon results, but if so then the Cadillac design team must be tripping to the bank with suitcases full of greenbacks. After all, has there ever been a more radical turnaround of a company than what we've witnessed from Cadillac over the past decade?
Yes, what was once Grandpa's favourite brand is now taking on the best from around the globe and kicking some serious world-class butt!
Much of this success lies with the company's golden child: the CTS. From what we've just seen, those designers are likely to need slightly larger suitcases in 2014.
The new Cadillac CTS
It barely seems like yesterday since Cadillac wowed us with its first CTS, yet 2014 hails in the 3rd generation. However, as much as the first gen made us gasp and cry, "You're kidding me, that's a Cadillac?!" The new 2014 Cadillac CTS is more about refinement and taking it all to the next level.
For 2014, the Cadillac CTS is longer (127 mm in length, including a 1.2" longer wheelbase), lower (the roofline and cowl -- the base of the windshield -- are about an inch lower), and leaner (its weight loss of 200 lbs is pretty impressive). There's also more luxury, more performance and a whole array of new high-tech bits and bobs.
Exterior
Cadillac's shield grille and signature vertical lighting elements evolve on the 2014 Cadillac CTS. The grille is wider and more detailed, while the headlamps flow up with the hood line, incorporating crystalline LED lights.
Active grille shutters are also now included on some models.
Interior
The cabin of the CTS has always offered a pleasing cockpit-like feel, and this continues for 2014. At the core of the 2014 CTS is
CUE
, Cadillac's infotainment system that uses smartphone/tablet-influenced controls to command and access information.
Bluetooth
connectivity with natural voice recognition is standard with CUE, along with USB and SD card ports.
An 8" high-resolution colour touchscreen is standard fitment in the 2014 Cadillac CTS, yet there is also a 12.3" high-resolution unit available.
The 2014 Cadillac CTS offers a choice of eight interior environments, each trimmed with authentic wood, carbon fiber or aluminum.
The new CTS sedan is also the first Cadillac to offer Automatic Parking Assist which enables the car to parallel park itself.
Other technologies include Cadillac's first 20-way adjustable front seats, heated and cooled (ventilated) front seats and a heated steering wheel, electronic parking brake (and there's even something called a motorized cup holder lid in the center console, but no data available yet on the closed-to-open acceleration times!).
Performance and handling
If there's one outstanding quality the 2014 Cadillac CTS is surely known for it's superb handling and performance. Anyone who's driven those gorgeous V series models will certainly back us up on that, and this continues for 2014.
Lightweight features, including Cadillac's first aluminum door structures, contribute to the reduced/lower weight of the new 2014 CTS and help create a near 50/50 weight balance. And, for the first time, Magnetic Ride Control is available on base models.
The 2014 Cadillac CTS is available with a naturally aspirated 3.6L (321 hp) V6. However, the big news for 2014 is the new
Twin-Turbo (420 hp) V6
(estimated 0-100kph of 4.6 seconds). Both come standard with Cadillac's first ever 8-speed transmission, which is sure to make a difference in ride comfort and fuel economy.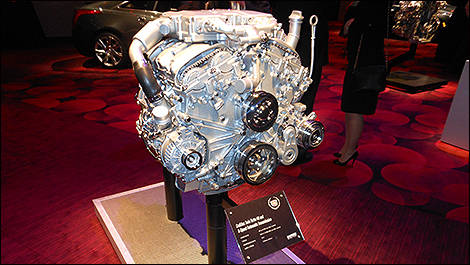 Photo: Kevin ''Crash'' Corrigan
Safety
Together with the standard 10 airbags, the availability of AWD not only enhances performance but safety as well.
The 2014 Cadillac CTS also features GM's first automatic safety-belt tightening system that automatically takes the slack out of the safety belts once buckled, fitting them perfectly to each occupant.
There is also a Driver Awareness Package available which includes Cadillac's patented Safety Alert Seat technology. This uses vibrating pulses in the driver's seat to alert the driver to an imminent collision or to vehicles in the car's blind spot. The seat vibrates on the left or right side, or both sides simultaneously, depending on the direction of the risk.
Summary
As we said, the new 2014 Cadillac CTS is upping the stakes in the midsize luxury market. So, while the Cadillac designers go searching for larger suitcases there are probably several of their German counterparts feeling just a tad uncomfortable!
2014 Cadillac CTS