Pros:
Ford was the first automaker in Canada to announce a 3-cylinder turbocharged engine, which delivers slightly more power and better fuel economy than the Fiesta Sedan's standard 4-cylinder mill. This car is very fun to drive, comfortable, functional, and nicely equipped.
Cons:
Rear-seat access is tight. A few compromises were made inside to keep the price as low as possible. Speaking of which, watch out for all these attractive options that could significantly increase the total.
2014 Ford Fiesta Sedan Price:
Buyers have a choice of three models including S at $14,499, SE at $16,675, and Titanium at $19,999. The automatic transmission costs an extra $1,250.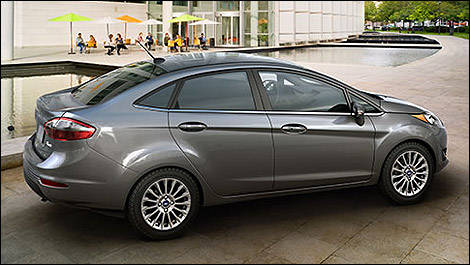 Photo: Ford
2014 Ford Fiesta Sedan Fuel Economy:
The official ratings for the Fiesta Sedan are 6.9/5.1L/100km (city/highway) in manual configuration, or 6.8/4.9L/100km in automatic configuration.
Improvements and Changes:
An all-new 1.0L 3-cylinder turbocharged EcoBoost engine will join the lineup this spring. Expect it to generate an impressive 123 horsepower and burn as little as 4.3L/100km on the highway.
2014 Ford Fiesta Sedan Powertrain:
The 1.6L 4-cylinder engine under the hood of the Fiesta produces 120 horsepower through a 5-speed manual transmission or 6-speed automatic with available manual mode. Torque vectoring control adjusts the speed between the front wheels to enhance cornering agility and reduce understeer.
Cargo Capacity:
The 2014 Ford Fiesta Sedan has a fairly big trunk (362 litres) considering its small size.
Safety:
Seven airbags come standard with the 2014 Ford Fiesta Sedan, along with AdvanceTrac stability control, traction control, hill-start assist, ABS, and brake assist. A post-crash alert system is fitted, too.
Comparing the 2014 Ford Fiesta Sedan:
Several other sub-compact cars are available on the Canadian market including the Chevrolet Sonic, Honda Fit, Hyundai Accent, Kia Rio, Mazda2, Nissan Versa Note, and Toyota Yaris.