Introduced at the Geneva Auto Show earlier this year, the
2014 Ford Fiesta ST
will finally cross the Atlantic and land on North American shores, powered by a new, high-output variant of the 1.6L EcoBoost four-cylinder engine.
''This is a rewarding car to rev,'' says Mark Roberts, Fiesta calibration supervisor. ''With 177 lb-ft of torque available from just 1,600 rpm and 214 lb-ft at 3,500 rpm, Fiesta ST gives the performance and feel of an engine twice its size. There's no waiting at all for the power to just push you back in your seat.''
Available exclusively as a five-door hatchback and with a six-speed manual transmission, the 2014 Ford Fiesta ST also delivers 197 horsepower compared to 181 for the MINI Cooper S and a mere 138 for the Chevrolet Sonic RS. At the same time, Ford is announcing an estimated 34 mpg.
The 2014 Ford Fiesta ST further stands out with 17'' wheels, dual tailpipes, and three-mode electronic stability control (standard, sport or off).
Stay tuned for Canadian specifications.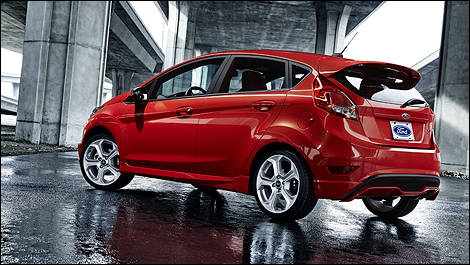 Photo: Ford