If it were legal, I'd have stolen… I'd have stolen nothing -- at least not a car that someone would have missed…
Seriously, IMPA's (International Motor Press Association) Test Days, held at Monticello Motor Park (MMC) in New York, is an amazing opportunity to get some good wheel time with a number of cars.
Like, but unlike, AJAC's Test Fest, Test Days invites auto journalists to sample cars they may or may not have had the pleasure to test in the past. The difference is that there are no assigned categories or votes to be submitted. Some manufacturers bring all-new products for sampling while most make "regular" cars available to us.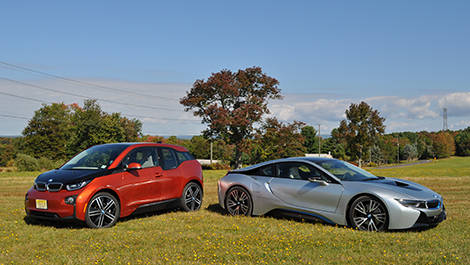 Photo: Mathieu St-Pierre
Of the cars on hand, a few got my mojo flowing excessively. One such car was the new Alfa Romeo 4C. Sadly, the list of journos looking to drive the car reached from Brooklyn to Monticello, so it didn't happen.
Another such car was the devastatingly vicious Chevy Camaro Z/28. This one, I wasn't going to miss out on. In fact, I was 1st on the list to track it but was "screwed" by a miscommunicated message about where the car was to be staged. In the end, I tracked it down, and once I stepped out of the car, my exact words on Instagram were: "Mind splattered all over the inside of my skull (series of necessary #hashtags). Speechless. Need another hit!"
I did get another hit of the Z/28, and I also helped myself to an SS 1LE and a ZL1, many many times. In fact, I estimate my laps of MMC with a Camaro to hover around lucky number 13. The Camaro: I want one. And I'll settle for the SS 1LE 6-speed.
The other vehicle (because it's more than just a car) that flipped my top was the 1st car I jumped on at this year's Test Days: The BMW i8. In fact, I quite nearly licked the door handle in order to make clear that I was not going to be bumped out of my 1st position on the list of test drivers.
The BMW i8 is such a complex machine yet is so simple to operate that at times I was lost trying to assimilate what it was I was experiencing. Whisper quiet in EV mode, and inconceivably loud when in Sport mode this thing is fast, too! We all know EVs are torque-y but the i8 blasts off like no one's business.
Then, in order to properly shut down the event, I took a final car out on the track and you'll not guess which. Essentially, the good people at GM we're no longer smiling at my mug as I walked past the Camaros so I went for the next best thing: a Ford Fiesta ST.
A starker contrast to the Camaros, there is not. However, the FWD EcoBoosted lightweight punches way above its weight class. More fun flat-out (aka #neverlift) in a well sorted sporty car in this price range is tough to match.