Pros
The Lincoln MKZ is available with front-wheel or all-wheel drive. Along with suspension improvements, this makes the Lincoln a luxury-oriented driver's car able to fit a wide range of wallet sizes.
Cons
Appears big on the outside, but feels constrained on the inside. Rear-seat headroom is a bit restricted, and taller occupants may be uncomfortable on longer trips. MyLincolnTouch and SYNC™ still need some improvement work done. Lincoln is falling behind slightly in the "gear wars" by using a 6-speed automatic when competitors are moving to 7- and 8-speed transmissions.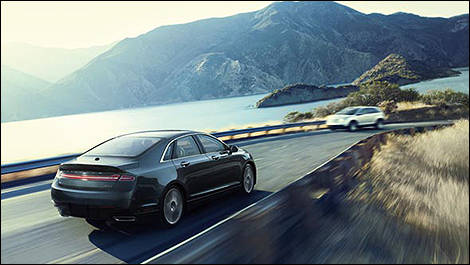 Photo: Lincoln
Pricing
The Lincoln MKZ starts out with a base price of $37,460. Step up to the Select trim level and the starting price is $38,655. Opt for the Reserve and the price steps up to $41,210. The fourth and final trim level is the Preferred which starts at $48,410.
Fuel Economy
In front-wheel drive, Transport Canada rates the Lincoln MKZ at 9.2/5.9/7.7 with the 2.0L EcoBoost engine. All-wheel drive MKZs utilize a 3.7L V6 that is rated at 11.6/7.8/9.9.
Improvements and Changes
After being launched in 2013 as a new replacement MKZ, the 2014 version remains unchanged except for some exterior colour choices. Electronic connectivity through SYNC™ and MyLincolnTouch is very good. Easily discerned quadrants on the screen shorten the learning curve on its usage. SYNC can be voice-activated. Lincoln Drive Control provides the optimum ride for roads travelled by controlling the Continuously Controlled Dampening suspension. An optional panoramic moon roof provides an open-air feeling. In a blast from the past, P-R-N-D-L gear selection is done via dash-mounted push buttons.
Powertrain
Lincoln utilizes two engines: a 2.0L EcoBoost inline–4 that produces 240 horsepower and 270 lb-ft of torque, and a 3.7L V6 that rates 300 horsepower and 277 lb-ft of torque. Only one transmission, a 6-speed automatic with select shift and steering-column mounted paddle shifters is used.
Safety
Dual front, front seat-mounted side impact, and full-length side curtain airbags come standard. Seatbelt-mounted airbags are optional on some trim levels. Traction control, stability control, ABS, Electronic Brake Force Distribution, and Brake Assist are standard. The LATCH system to anchor child seats is standard, as are child-proof rear door locks. Distance-sensing cruise control, lane departure warning, and blind spot monitoring are available.
Comparables
Buyers who looked at the Lincoln MKZ also looked at the Lexus ES, Cadillac CTS, Buick Regal, and the Chrysler 300, Toyota Avalon, Acura TL, Hyundai Equus, Audi A4, and Volkswagen CC.