Most people wouldn't call me crazy for saying that the majority of North Americans are joined at the hip to their technological gadgetry. Whether that's a smart phone, iPad, MP3 player, computer or what have you, we like to be connected. When we have to be unplugged, some of us feel a sense of anxiety. Then again, some of us are relieved!
So, what happens when we get behind the wheel of a car? Most don't disconnect. That's why there are handsfree laws. However, we know that doesn't necessarily stop people from texting, tweeting or even Facebooking while behind the wheel.
Car manufacturers have come to realize that the demand to stay connected at all times is a must. Each have their own solution so time spent not looking at the road is mitigated.
The HMI (Human Machine Interface)
For the first time, Mazda implements their latest technology in their all-new
Mazda3 hatchback
. It's called the HMI (Human Machine Interface) and offers drivers the ability to stay connected -- within reason -- while going about their daily duties in a car. However, it's more than just Bluetooth, the display of text messages or navigation commands.
The system's intuitive nature let's you take on various functions without having to take your eyes off the road for an unnecessarily long period of time.
They've done this by simplifying the number of buttons and gauges it takes to navigate around the system and by positioning the various displays at a convenient height so you're not looking down when you should be looking up. Here's how it works:
Lucky Number 7
Mazda did the research and found that good things come in sevens. So, they implemented that into their HMI development and execution.
According to Psychologist George Miller, the average size of a person's working memory is seven. That study was published in 1956, and if you want to know the ins and outs of it, Google will assist! However, the run down is if items or information are grouped in sevens, the brain is better equipped to work with it.
Example: Instead of loading as many names from your phonebook on the 7" display as possible, Mazda uses a larger text size and only seven names appear, therefore reducing the amount of time your eyes leave the road. You can either select the name you want to call via the touchscreen or the HMI Commander (more on the Commander in just a moment).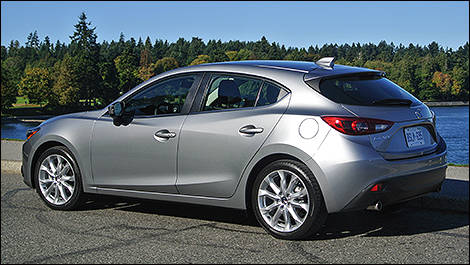 Photo: Alexandra Straub