For those of us without a checkbook like Nigel Wright, watching your money is important -- and Mitsubishi's latest offering helps Canadian drivers do just that. It's called the
Mirage
, it's huge on low-cost transport, and it's not a mirage that its starting price is under $12,500, it has a 10-year, 160,000 kilometre powertrain warranty or that its mileage figures suggest you can go 100 clicks on as little as 4.4 litres.
The Mitsubishi Mirage is basic transportation, and evaluating it as anything else is missing the point. Besides, the shopper after a car like this one wants, arguably, three key things: a cheap price, low running costs, and that warm, snuggly feeling that arises from knowing you've scored a good deal.
As such, the Mirage will sell some copies to families and folks after a thrifty second-car runabout to use when the Sequioa or Tahoe's services aren't required or to any number of folk looking to downsize their ride, fuel bills, repair costs and car payments or to someone like my brother who drives a big, gas-sucking truck to support his outdoorsy weekend activities while cringing at the fuel burned on his work commute during the week.
There's another shopper the Mirage is going to be even more popular with. This shopper's favourite restaurant has a 99-cent menu; they're familiar with living on a shoestring budget; they're probably upgrading from a pair of Nikes and a bus-pass, because the Mirage will probably be their first car. If not, they've probably returned beverage containers and searched beneath sofa cushions for gas money in the not-so-distant past.
Yes, the Mitsubishi Mirage is going to be a hit with students. Students who will likely take their new Mirage on road trips, loaded to the brim with friends, gear, and supplies while searching out all sorts of new adventures.
I thought I'd head out on a college road trip of my own, even though I went to university nearly a decade ago and haven't set foot in the halls of higher learning edifice since then. I selected three friends to join me, and we packed up, set off, and headed from Sudbury to the most exciting of Canadian destinations: Sault St. Marie, Ontario.
The agenda? An evening in the hot-tub at the Water Tower Inn (which was, of course, broken), a night on the town, and morning breakfast.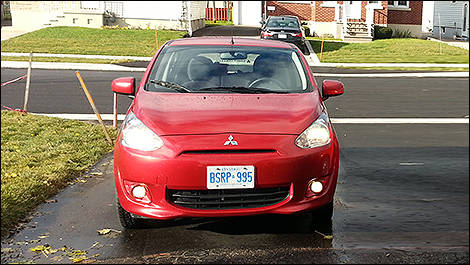 Photo: Justin Pritchard
My passenger-buddies were initially reluctant about taking the little Mirage on such a big road trip; however, they, and I, learned a lot about Canada's thriftiest and best-backed subcompact in the process. Here are some notes.
Bigger than it Looks:
It was anyone's guess how the Mirage's interior would accommodate Paul, Dave, Eddie and I, plus our overnight bags, and a large 20-pound pike mounted to a board (a gift for a friend's new garage) all at once. The 2014 Mitsubishi Mirage is bigger inside than it looks -- and though snug for four adults of average-ish size, it wasn't oppressively tight. Three cupholders and a rear-window cargo-cover shelf added to the at-hand storage and helped keep us organized on the go. Seats are flat and somewhat stiff, so a few stops to stretch were required. All of my passengers were surprised at the interior space, and especially headroom.

Great Lighting:
Some after-dark driving revealed a very good headlight system, especially with the high beams engaged. The route is a drab, poorly lit stretch of boring asphalt on a good day., I appreciated powerful, saturating high-beam output during this mid-November road trip in limited daylight. The Mirage's high beams are bang-on in terms of output and dispersion.
Get the CVT for Highway Cruising:
The CVT isn't a favourite transmission, though the tester benefitted from its presence. With no gears to shift, the CVT puts the 1.2L 3-cylinder engine's 74 horsepower to optimal use, enabling shift-free acceleration up to highway speeds, enhanced refinement, and the ability to spend more time at lower revs. Best thing? Hills. With an automatic, a little car like this would excessively hunt to find the right gear on any grade, like Goldilocks evaluating bowls of porridge. With the CVT, revs smoothly ramp up as needed, speed is maintained well, and refinement is maximized.
Decent Highway Ride and Steering:
Rough roads in town can coax some harshness and noise from the Mirage's suspension, though on well-maintained highways it feels relatively solid and robust -- not flimsy and delicate. Further, a heavy "notch" in the on-centre steering position means the Mirage "locks" onto its line when drivers point it straight ahead, helping it feel like a bigger, heavier, and more planted machine at speed.
Decent Mileage in less-than-ideal Conditions:
I didn't achieve the sub 4L/100km rating promised by Mitsubishi of their latest gas-saver, though with 800 pounds of passengers, plus their stuff, rolling at 115 km/h on winter tires on a windy day, my trip average mileage landed at 6.5L/100km, which isn't bad at all.
Complaints:
A few gripes came to light during the trip, too. First, there's no arm-rest, which sucks if you have arms. Second, the engine sounds unpleasant and protests if you need to give it the boot and open it right up. Finally, a whistling noise, which we figured was probably the sound of wind going around a body panel gap, was apparent for some of the drive.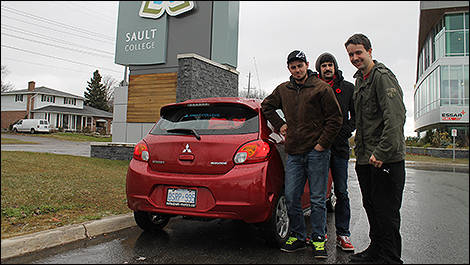 Photo: Justin Pritchard
2014 Mitsubishi Mirage