Pros:
The Mercedes-Benz G-Class is one of the most iconic SUVs of all times. With military roots and plenty of heritage, this luxurious and capable 4x4 dominates everything from slick pavement to rocky trails. The boxy shape lends it an unmistakable look, while the vast expanses of glass provide superb visibility all around. And despite what the exterior might suggest, there are plenty of modern features and amenities inside.

Cons:
Prices are off the charts, gas mileage is low (even by large SUV standards), and the step-in height is huge. The ancient design, which has barely evolved in decades, will not please everyone. As for handling, there's a top-heavy feel that demands attention.
2014 Mercedes-Benz G-Class Price:
The base G 550 starts at $121,600, while the almighty G 63 AMG retails for $150,700. Exclusive interior trim pieces, 20'' twin-spoke wheels, and a rear-seat entertainment system are available.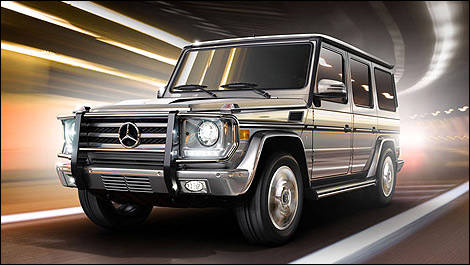 Photo: Mercedes
2014 Mercedes-Benz G-Class Fuel Economy:
Oddly enough, the bigger, more powerful engine is also more fuel-efficient according to Mercedes-Benz: 17.5 vs. 18.1L/100km in the city, and 13.4 vs. 13.6L/100km on the highway.
Improvements and Changes:
The G-Class boasts some minor changes but is mainly a carryover for 2014.
2014 Mercedes-Benz G-Class Powertrain:
The standard 5.5L V8 engine produces 382 horsepower and 391 lb-ft of torque, all channelled through the German manufacturer's 4MATIC four-wheel-drive system with low and high ranges, as well as three locking differentials. The twin-turbocharged version of the same V8 generates a whopping 536 horsepower and 560 lb-ft of torque in the G 63 AMG, dropping 0-100km/h times from 6.1 to 5.4 seconds. Both models use a 7-speed automatic transmission.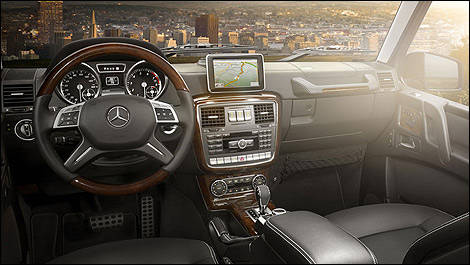 Photo: Mercedes
Cargo Capacity:
There are 480 litres of trunk space in the 2014 Mercedes-Benz G-Class, although you can fold the rear seats and take advantage of a gigantic 2,250-litre cargo area.
Safety:
Neither the National Highway Traffic Safety Administration (NHTSA) nor the Insurance Institute for Highway Safety (IIHS) have crash-tested the 2014 Mercedes-Benz G-Class (at the time of writing). Anti-lock brakes with brake assist and electronic brake force distribution along with stability control are standard. The list also includes a rearview camera, active parking assist, blind-spot monitors, adaptive cruise control, and an emergency calling system.
Comparing the 2014 Mercedes-Benz G-Class:
There's really nothing quite like it, although potential buyers may want to consider the Range Rover and, to a lesser extent, the Lexus LX.