Pros:
Even though the first generation of Nissan NVs only appeared in 2012, they have made their mark in a market dominated by American vehicles, including the Ford Transit, the Ram ProMaster, and by the Mercedes-Benz Sprinter. This passenger van comes in an impressive range of models. Extremely versatile, the NV is extra roomy for front seat passengers as well as having a generous amount of cargo space.
Cons:
While considering that the Nissan NV has only been on the market for three years and despite its distinctive qualities, it falls behind its American and German competitors. Although both powertrains offered are reliable, they consume a lot of fuel. Indeed, it is regrettable that Nissan has not yet put forward a version with a Diesel engine and a 6-speed transmission.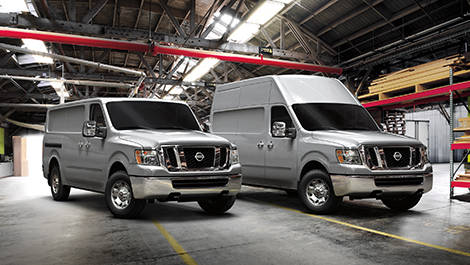 Photo: Nissan
2014 Nissan NV Price:
Nissan has placed two models on the market for 2014: the NV Cargo, starting at $31,498, and the NV Passenger, starting at $38,398. For the NV Cargo, the Japanese manufacturer proposes the 1500 S, 2500 S/SV V6, 2500 S/SV V8 and 3500 S/SV V8 models. Meanwhile, the NV Passenger is available in S/SV/SL.
Fuel Economy:
For all models, the V6 NV is rated at around 12.9 L/100 km, while V8 model can reach up to 14.9 L/100 km.
Improvements and Changes:
Because it has only been on the market since 2012, the 2014 Nissan NV has not seen any major changes.
2014 Nissan NV Powertrain:
Under the hood of the 2014 NV, Nissan offers either a 4-litre, V6 DOHC engine that generates 261 horsepower or a 5.6-litre, V8 DOHC that produces 317 horsepower. A 5-speed automatic transmission is available on all models.
Cargo Capacity:
The loading capacity for the Nissan NV Cargo is 6,629 litres, while the high roof version has a 9,149-litre capacity. However, only 818 litres of load space is available in the Passenger model.
Safety:
Safety-wise, the 2014 Nissan NV boasts ABS brakes, brake assist, electronic brake force distribution, dynamic stability control and traction control.
Comparing the 2014 Nissan NV:
This van segment also includes the Ford Transit, the Ram ProMaster and the Mercedes-Benz Sprinter.