Pros:
The Jetta GLI combines numerous sought after attributes with a healthy dose of German-engineered performance to create a highly appealing package. Standard turbocharged power, handsome looks, heaps of safety equipment, and good fuel mileage lie at the core of Germany's most affordable sports sedan. Best of all, the GLI is a sedan, so it's sensible and practical.
Cons:
The GLI only comes in one basic configuration: as a front-drive, 4-cylinder sedan. There's no AWD or up-level engine available. Some performance buffs may wish for more power.
2014 Volkswagen Jetta GLI Pricing:
Expect to pay $28,290 plus freight and delivery charges. A sport package, leather package or technology package build on each other, and can be specified for additional feature content and high-tech flare. A full range of accessories is available for customization, too.
2014 Volkswagen Jetta GLI Fuel Economy:
Depending on the transmission selected, fuel consumption is rated as low as 6.1L/100km during highway cruising and 8.9L/100km in the city. The DSG transmission offers slightly lower overall consumption figures.
Improvements and Changes:
Changes for 2014 are minimal and relate to a new trunk badge, reduced interior colour selection, and deletion of wheel locks from the standard features list.
Don't Miss:
The available DSG transmission. It provides lightning-fast gear changes and a slight boost in fuel efficiency -- as well as steering-wheel mounted paddle shifters for maximum control over the GLI's performance experience. In normal driving conditions, the DSG functions like a normal automatic. When drivers want full performance, it fires off upshifts and downshifts in mere fractions of a second, with perfect rev-matching in both directions. Forget boring automatic transmissions, the DSG turns the Jetta GLI into a pure performance weapon when it comes time to change gears.
2014 Volkswagen Jetta GLI Powertrain:
The GLI's 2.0L turbo engine provides a hefty 210 horsepower and nearly as much torque, meaning on-demand power when required and tremendous fuel efficiency. This engine is an international award-winner that builds on years of experience with turbocharging and fuel-efficient performance. Intercooling and direct injection enhance the effectiveness of the turbocharger system at creating robust power alongside minimal fuel consumption. All units are front-wheel drive and equipped with a 6-speed transmission in the driver's choice of manual or DSG.
Safety:
A full suite of advanced safety technologies, including six airbags and an Intelligent Crash Response System (ICRS) system help keep occupants safe in the event of an unavoidable impact, while powerful antilock brakes and an Electronic Stabilization Programme help support drivers in maintaining full control at all times. Distraction-busting Bluetooth technology is also on board, and a powerful xenon lighting system provides top-notch illumination of dark roads.
Comparables:
The 2014 Volkswagen Jetta GLI competes primarily with other affordable sport sedan models like the
Honda Civic Si
,
Subaru WRX
, and
Mitsubishi Lancer Ralliart
.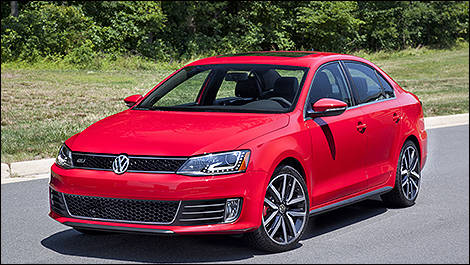 Photo: Volkswagen
2014 Volkswagen jetta GLI
2014 Volkswagen jetta GLI