Last week we reported on the story of a 2017 Ford GT that was about to be "illegally" offered at auction, despite Ford's protestations that the original buyer's purchase contract contained a clause forbidding a resale within 24 months.
You'll recall that the supposed clause did not prevent former wrestler John Cena from selling his GT in September 2017. Now a second model was going to be offered up to the highest bidder at the Mecum auction. With production limited to 450 units, demand obviously far outstripped supply for the performance car, so it was clear the latest auction was going to generate strong interest.
That interest helped boost bidding right up to a final winning bid of $1.65 million USD, or slightly more than $1.8 million when factoring premiums and other costs.
The Ford GT's original sticker price being $450,000, this meant a tidy $1.2 million profit for the seller after having owned it for just a few months.
And this is precisely the kind of situation that Ford wanted to avoid when it included the infamous clause, the existence of which remains somewhat unclear. Before the auction took place, a judge ruled that the sale of the Ford GT was in fact legal.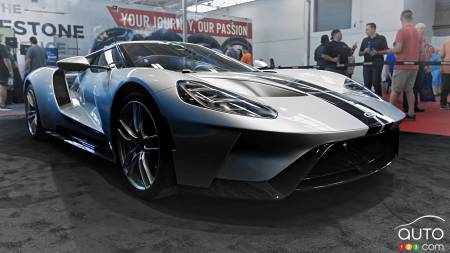 The Ford GT sold at auction has all of 7 miles on its odometer, so is new for all intents and purposes. It is numbered 48 out of the 250 Ford GTs that were built in 2017.
Ford is not making any official comment on this particular case since it involves a specific client, but we can expect the company will take legal action of some kind.
Another easy prediction we can make is that other owners will certainly sit up and take note of the significant profit pocketed by the GT's seller this weekend, and be tempted to follow suit.
How the story of the GT and Ford's infamous clause plays out will be interesting to watch, especially as it could impact future agreements between automakers and buyers of limited-edition cars of this kind.