While the big news in the Ford SUV world has yet to arrive—I speak, of course, of the all-new 2018 Expedition and EcoSport—the manufacturer's current and rather diverse lineup of SUVs and CUVs is already one of the leaders in the market.
Here's a breakdown of the 2017 models, as well as what's on the way for the Escape, Edge, Explorer and Flex for 2018.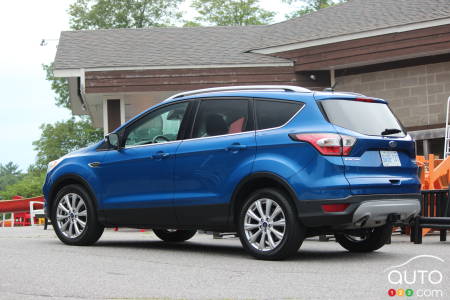 2017 Ford Escape (base MSRP $25,099)
Not just the monster seller of Ford's SUV lineup, the Escape is also one of the biggest sellers in the SUV segment as a whole. It's not hard to see why when you begin to drive it. For starters, it's got the best handling here by a healthy margin thanks to immediate turn-in and reduced body roll. The ride is also the firmest, but obviously, buyers don't seem to mind and on these roads it actually impressed me more than the Edge did. Even the power's there, with our tester's 2.0L turbo EcoBoost engine (there's also a naturally aspirated 2.5L unit and a 1.5L turbo) producing 245 hp and 275 lb-ft of torque. The Escape is available in S, SE, SEL and Titanium trims and with either FWD or AWD, paired with a 6-speed automatic transmission.
For 2018, the Ford Escape was supposed to arrive pretty much unchanged after it received a minor facelift for 2017. In the end, that wasn't the case, however. Ford has added a tow package for 1.5L models (it was previously limited to the 2.0L model), as well as a selection of new colours and the optional Safe and Smart package also found on the Edge. The Escape gets FordPass compatibility, too.
Pros
Agile handling
Low liftover height
Eye-catching looks
Cons
Cramped interior
Infotainment screen is hard to reach
Ride may be a little firm for some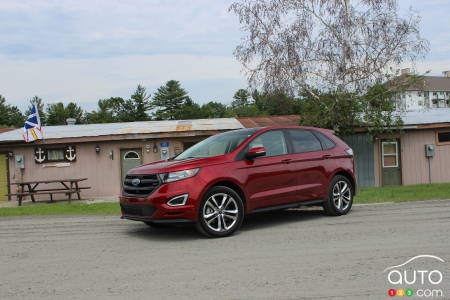 2017 Ford Edge (base MSRP $33,199)
We had the chance to put the Edge Sport (which joins S, SEL and Titanium models) through its paces on the winding roads around Ontario's picturesque Muskoka region, and while that may seem like a strange thing to do with a mass-market midsize CUV, remember: At the time of launch, Ford themselves called the Edge Sport the "Mustang of crossovers." It both looks and sounds the business, and with 350 hp and 315 lb-ft of torque from the 2.7L EcoBoost V6, it's got the numbers to walk the walk, that's for sure. I was consistently surprised by just how aggressive the exhaust note was on throttle tip-in. It's accompanied by some pretty swift progress, too. If only the chassis was a little more up to the task laid out by the engine; there's a lot of body roll, here. I'm also not a huge fan of the steering wheel angle, which is a little too tilted away from the driver. There is plenty of room inside, though.
For 2018, the all-new SEL appearance package means your Edge can look like the Sport model without the hefty price tag. The all-new Safe and Smart package will offer lane keep assist, adaptive cruise control, rain-sensing wipers, blind spot warning and adaptive headlamps. If your model is equipped with SYNC 3, you'll be able to download the new FordPass app that allows you to start the engine, control the climate system and even track your fuel levels from anywhere.
Pros
Great engine, especially in Sport guise
Modern styling
Spacious interior
Can tow up to 3,500 lbs
Cons
Awkward driving position for taller folks
Gets expensive
Fair amount of body roll
No tow package with Sport model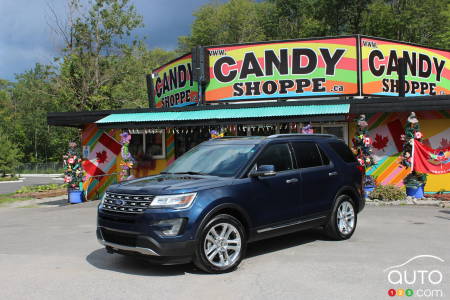 2017 Ford Explorer (base MSRP $34,499)
One of the pioneers of the entire SUV game soldiers on with five trim levels: Explorer, XLT, Limited, Sport and Platinum. Three engines are available: a 3.5L V6, a 2.3L EcoBoost 4-cylinder and a 3.5L EcoBoost V6. Pictured here is the Limited model equipped with the 3.5L powerplant and AWD. It's a strong puller both off the line and in-gear, backed up by a comfortable ride that makes for a good highway cruise. Off the road, four AWD modes (Normal, Mud/Rut, Sand and Snow/Gravel/Grass) result in a capable, well, explorer. This vehicle may not typically venture off-road as much as, say, a Toyota 4Runner, but it's nice to know you have the capability.
For 2018, look for redesigned front and rear fascias (new grille and fog lights) as well as a 4G LTE hot spot.
Pros
Good engines
Comfortable ride
Off-road capable thanks to 4-mode Terrain Management system
Sport trim looks the business
Can tow up to 5,000 lbs
Cons
Snug third row
Plastic interior panels, improved on Limited model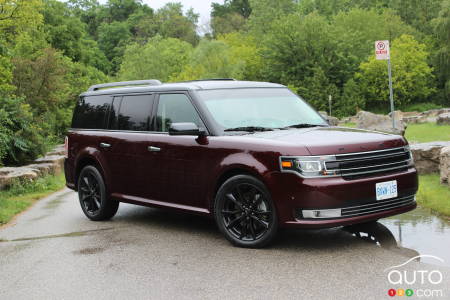 2017 Ford Flex (base MSRP $31,899)
While it shares many bits with the Explorer, the Ford Flex really is the cruiser of the bunch. The seats are a little plumper and a little flatter, and while exterior styling will always be divisive, the general boxy ambiance is one of quiet, easy and comfortable progression. Available in SE (FWD, AWD), SEL and Limited (both AWD only) models and with an older 3.5L naturally aspirated V6 and 3.5L EcoBoost V6, the Flex isn't going to blow anyone's socks off in the performance department. However, on the practicality front, you'll be impressed with the 32 different seating configurations. If you want to haul five adults in comfort, you can. Alternatively, you can swap the adults for the wide flatness of an IKEA run with relative ease. Certain aspects of the Flex are beginning to show their age (it hasn't changed much since 2013), but not a single one of these Ford SUVs, not even the Explorer with which it shares a platform, is going to beat it on comfort.
There are no changes for 2018.
Pros
Supreme cabin comfort
Configurable seating
Unique looks
Cons
Starting to show its age
Unique looks
2017 Ford Edge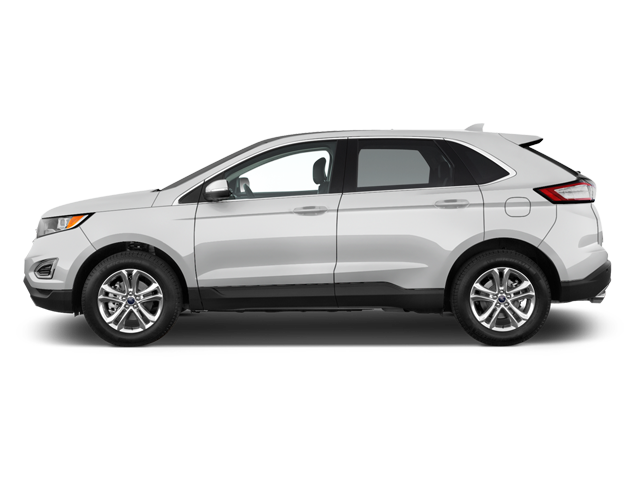 2017 Ford Flex
2017 Ford Explorer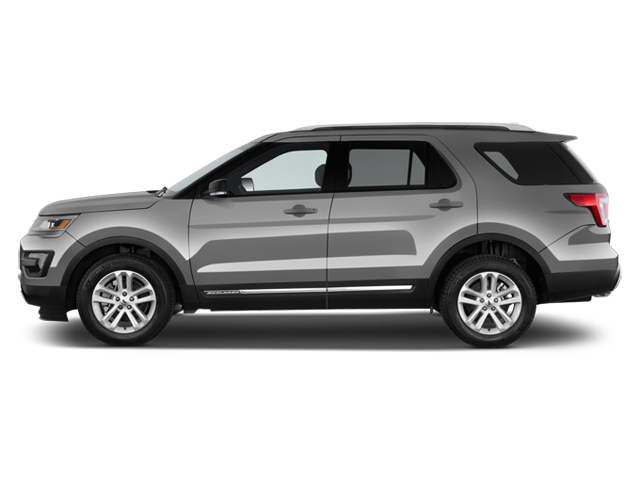 2017 Ford Escape