The victim of a certain neglect on the part of its maker in recent years, Hyundai's small sport coupe is back with a bang for the 2019 model-year, with an actual launch date expected in the second trimester of 2018. The new Veloster was unveiled yesterday at the 2018 North American International Auto Show in Detroit. We take a look at the three versions…
2019 Hyundai Veloster and Veloster Turbo
Developed conjointly in South Korea and California, the new Veloster models hew closely to the previous edition (retaining the same hatchback configuration, with one left-side and two right-side doors), but are built on a new platform and replicate the updated lines of the new Hyundai Elantra GT, in addition to sporting a more athletic profile.
Other notable changes include available LED headlights and daytime running lights, the striking new cascade grille, larger front fenders and wheel arches, with 18-inch alloy wheels lurking under them, more-aggressive rear diffuser, centrally-placed chrome exhaust pipes, and LED taillights. Buyers can opt for a contrasting dark roof as well.
Inside, each Veloster is decked in unique colours, materials and accents. The Turbo version offers a high-contrast environment that sets apart the driver's cockpit.
Under the hood, the 2.0L 4-cylinder base engine delivers 147 hp and 132 lb-ft of torque, and is wedded to a 6-speed automatic transmission (unfortunately, no manual gearbox is offered). The car can be driven in three modes: Normal, Sport and Smart. The other 4-cylinder is the already-known turbo engine, which generates 201 hp and 195 lb-ft of torque (or up to 202 during sharp acceleration thanks to an overboost function). It works together with a 6-speed manual or 7-speed dual-clutch automatic transmission; an active exhaust system enhances the engine sound as well.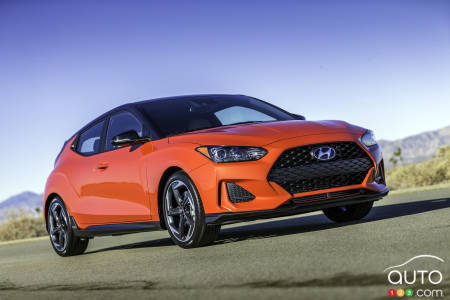 In all cases, an active torque vectoring control system improves handling in corners. In addition, the Veloster Turbo is equipped with a quicker-ratio steering rack and a revised steering calibration, designed to provide the driver with improved precision and feedback at the wheel. The Turbo also adds a sport suspension.
One of the most substantial improvements made over the previous Veloster is in its offering of safety and infotainment systems. The 2019 Hyundai Veloster thus comes with a backup camera, blind spot monitor, rear cross-traffic collision warning, 7- or 8-inch multimedia screen with Android Auto and Apple CarPlay compatibility as well as an available navigation system with BlueLink function (which provides improved safety, diagnostic, remote control and guidance services for a period of five years) and 8-speaker Infinity audio system. A head-up display system that projects a virtual image on a transparent panel mounted behind the instrument cluster is also available, as is wireless charging for smartphones.
2019 Hyundai Veloster N
In the end, the Veloster and not the Elantra GT will be the model inaugurating Hyundai's N performance division in our market; it is expected to arrive at dealerships toward the end of 2018. According to Hyundai, the engineers' focus was more on BPMs (beats per minute) than on RPMs.
Developed at the Nürburgring test centre in Germany, the 2019 Hyundai Veloster N is powered by a 2.0L direct-injection turbo engine delivering 275 hp and 260 lb-ft of torque via a close-ratio 6-speed manual transmission with downshift rev-matching capability. An N mode is added to the menu of drive modes for an even more exhilarating driving experience.
The N's engineers worked long hours on fine-tuning the geometry of the suspension, which features Power Sense axle geometry and a rear strut brace to reduce nose-diving during braking, rolls when cornering and compression of the suspension during sharp accelerations.
Handling in corners is further improved thanks to a limited-slip differential with torque vector control unique in the N version. For braking, the car uses a performance system that includes oversized 13.6-inch discs in front and 12.4-inch discs in back.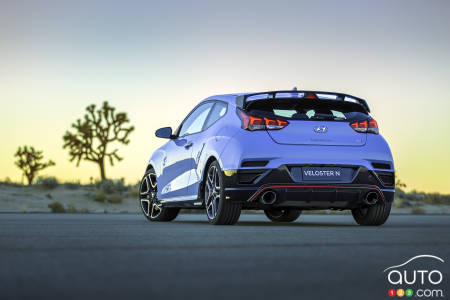 The exterior is adorned in N-exclusive design elements like the front fascia and grille, front air intakes (for improved brake cooling), side sills, 19-inch light-alloy wheels (fitted with ultra-high-performance Pirelli P-Zero 235/35R19 tires), larger rear spoiler and oversized, high-performance, high-flow dual-exhaust system. Four paint choices are offered, including N-exclusive Performance Blue, inspired by the Hyundai Motorsport division.
The cabin itself is black with contrasting finishes matched to the exterior colour, and features sport seats, N-specific steering wheel and gear shifter, N-logo door sill plates and a performance-focused centre cluster.
We are itching to try out the 2019 Hyundai Veloster to see how it stacks up against the Honda Civic Type R, Subaru WRX STI and Volkswagen Golf R. We're hoping to get the chance soon!
2019 Hyundai Veloster Turbo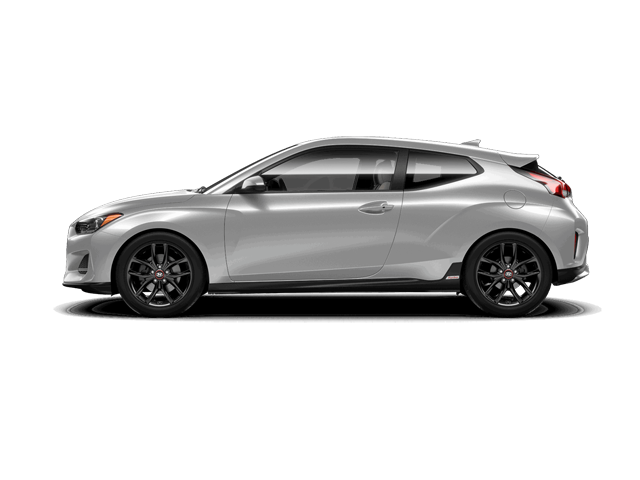 2019 Hyundai Veloster Turbo
2019 Hyundai Veloster N