The previous generation of the QX50 was sporty and nimble in its small luxury compact SUV format. But for 2019, the manufacturer has completely reimagined its family utility vehicle to better meet the needs of families like mine. I had the opportunity to attend the Canadian debut presentation of the model, and here's what I learned from my first close-up encounter.
First off, the changes made for this year are:
Its new 2.0L 4-cylinder engine with variable compression. Gone is the V6 of previous models, replaced by a technology that is actually revolutionary within the industry. The new QX50 gets the world's very first engine able to automatically adapt its compression rate depending on the effort demanded by the driver.
Young moms like myself love the idea of a fuel-economical SUV, and I'm even ready to compromise a little on the power delivered by the engine if it cuts down on what I spend at the pump. The good news here is that the QX50's new 4-cylinder engine is able to optimize both power and fuel economy thanks to its new variable compression technology.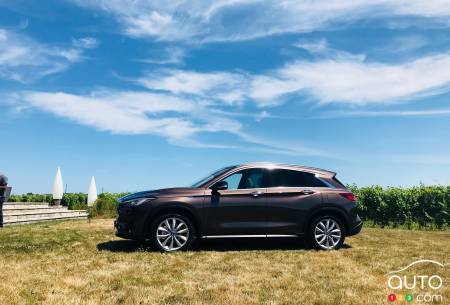 Best of all, you don't notice anything when at the wheel. You still get to benefit from all of the 268 hp and 288 lb-ft of torque, available by the way at a lower RPM. This translates into pretty satisfying acceleration capabilities.
Published fuel consumption ratings are 10.0L/100 km in the city and 7.8L/100 km on the highway. At present there are very few SUVs in its class that can match that. Maybe the Lexus NX hybrid and the Volvo XC60 hybrid (about $70,000).
Another notable change is the vehicle's format. It's now larger and higher than before, increasing the amount of space available for the rear-row passengers. And cargo volume is now 1,045 litres with the rear seats pushed forward to the max, and 1,700 litres when those seats are folded down.
The rear bench slides on rails and standard equipment includes heated front seats and steering wheel, all-wheel-drive and panoramic sunroof.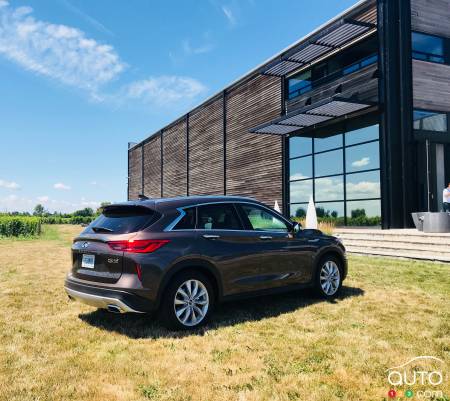 Inside, materials are of exceptional quality, even superior to what you find in the Lexus NX, which is pretty highly rated for its high-end finishing. Several of the components are hand-made, and Infiniti has included an excellent audio system that can come with up to 17 speakers. On the other hand, the infotainment system is more or less pleasant to use. The inscriptions are badly presented, and it's as if the display is taken straight out of the 90s. What's more, there's no
Apple CarPlay and Android Auto compatibility… it's pretty disappointing.
You find a CVT transmission and no other gearbox option on all models offered this year. The model has a maximum towing capacity of 3,000 pounds.
In conclusion, the positive points are:
-Innovative engine
-Spacious, comfortable cabin
-Advanced drive assist systems
-Very rigid structure
-Good road handling
-High-quality interior finishing
-Quiet interior
-Fuel economy
And the negative points are:
-Engine noisy on acceleration
-CVT transmission not very reactive
-Light steering
-A few shortcomings in terms of equipment
-Heated seats only in front
-Only one available USB port in back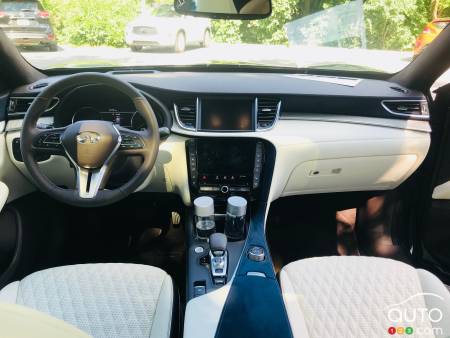 These versions are available:
QX50 Luxury starting at $44,490
QX50 Essential starting at $48,990
QX50 Autograph starting at $52,990
QX50 ProACTIVE starting at $56,490
QX50 Sensoriel starting at $57,990
Main competitors:
Lexus NX
Audi Q5
Mercedes-Benz GLC
Acura RDX
BMW X3
Lexus RX
Jaguar F-PACE
Alfa Romeo Stelvio