Audi has made public details and images of its new second-generation Q3. The SUV will make its public debut at the next Paris auto show, taking place early this fall, and be available to consumers as a 2019 model early next year.
Audi's design team made no radical changes to the model for its new iteration, as per tradition at the German automaker. Thus the contours of the new Q3 have evolved somewhat, but only somewhat. This is actually a bit of a shame, given that Audi did bring more significant changes to the Q8 without sacrificing its identity in the process. The company did, however, incorporate certain traits of the larger SUV into its smaller sibling. The front grille, for example, is wider and thinner, features a thicker chrome band framing it and sports super-thin vertical slats.
For the rest, the proportions of the vehicle have not changed drastically, though it is slightly larger than the outgoing model.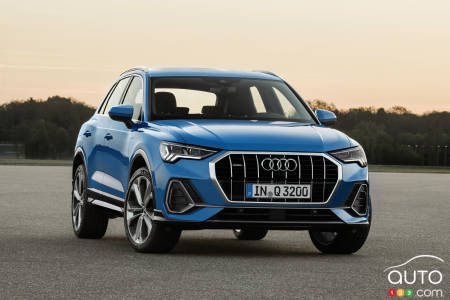 The interior has been more comprehensively transformed. The Q3 is the brand's first vehicle to get the MMI Touch Response infotainment system accessed via one single screen, integrated into the central console in a glass panel, and helping give the space a more uncluttered appeal.
Thus absent is the so-called floating screen, used these days in so many vehicles and not always with such great results.
Kudos to the Audi engineers who decided to keep an actual knob for the audio volume. Slowly but surely, the manufacturers seem to be waking up to the wisdom of this. On the other hand, there are previous few buttons to be seen, which helps get that uncluttered look but is an indication that many functions will have to be accessed via the touchscreen.
In front of the driver now sits that virtual cockpit that Audi is gradually incorporating on all of its models.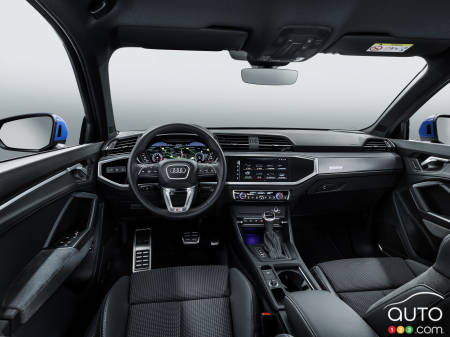 Interior space is slightly more generous than before. The second row of seating now can be slid front or backward by 6 inches and be inclined to improve comfort. Cargo volume is now 1,526 litres with the seats down, 530 with them up.
As for what sits under the hood, Audi provided only information regarding the European powertrains, so we'll have to wait to know more about what North American consumers will get. It's a safe bet that the 230-hp 4-cylinder engine will be back, but we cannot confirm that just yet. Stay tuned.