We recently reported on Subaru Canada's confirmation that the new Subaru Crosstrek PHEV was earmarked for our market – news greeted with enthusiasm by the brand's legions of fans north of the border. The plug-in hybrid version of the crossover made its official debut this week at the 2018 Los Angeles Auto Show.
The "reveal" actually revealed nothing new of note. The 2019 edition of the Crosstrek sits on the new platform that was introduced last year, which is designed to accommodate hybrid and electric powertrains.
For the Japanese automaker, the Crosstrek PHEV is an extremely important addition to its roster. All around Subaru other manufacturers are producing electrified models at a frenetic pace, and the company simply could not stay on the sidelines. Not only that, but just around the corner at the LA show, Toyota is presenting its new Prius as an all-wheel-drive car. Subaru has long had an advantage in the realm of AWD, and now its hegemony is increasingly threatened. The time for action was now, if not yesterday...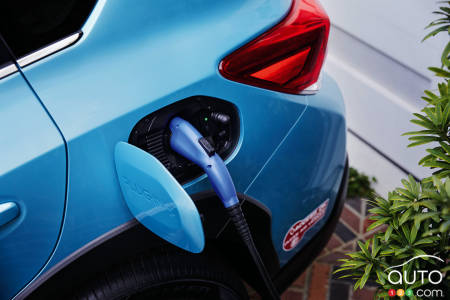 The Crosstrek PHEV can be driven up to 27 km in all-electric mode. This isn't earth-shattering, but it's a start. Crucially, it means Subaru can now be included on the short-lists of consumers buying green. For a small carmaker, this is a big deal.
Mechanically, the well-known 2.0L flat-4 engine is the basis for the powertrain, and it's supported by an 8.8 kWh electrical unit. The Crosstrek's hybrid system with two electric motors actually comes from Toyota, which uses it in its Prius Prime.
Our review of the 2019 Subaru Crosstrek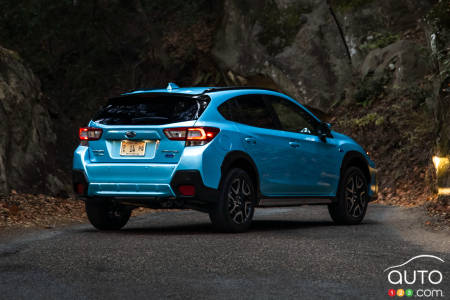 We did learn in Los Angeles that Subaru will roll out the Crosstrek PHEV first in California, followed by jurisdictions that have the same emissions norms. In other words, it won't be marketed in all states.
In Canada, and of Subaru lovers, we'll be getting it from coast to coast, and that should happen as of late December of next year. Patience, patience...