Auto123 goes to curtsy before the new 2020 Bentley Flying Spur, an everyday car (for the 1%).
Montreal, QC - On January 18, 1919, W.O. Bentley founded the brand that still bears his name today. Still based in Crewe, England where the company was born, Bentley made a joint venture with Rolls-Royce from 1973 to 1998 before being taken over in 1998 by the Volkswagen group, which still owns the brand today.
The Flying Spur
Buying a Bentley is like having your own tailor. When it comes to suits, there are brands of off-the-rack jackets, good brands like Boss or Paul & Shark, prestige brands like Armani and Zegna and finally, there are the bespoke suits, made to measure by your personal tailor. That's kind of what Bentley is. The Flying Spur is for those who find that even the best prestige cars aren't sophisticated enough.
Designed and handcrafted at the Bentley factory in Crewe in the UK, the new third-generation 2020 Flying Spur is a fine blend of British craftsmanship and cutting-edge German technology that pushes the boundaries of refinement and hoists it to the top of the luxury sport sedan category.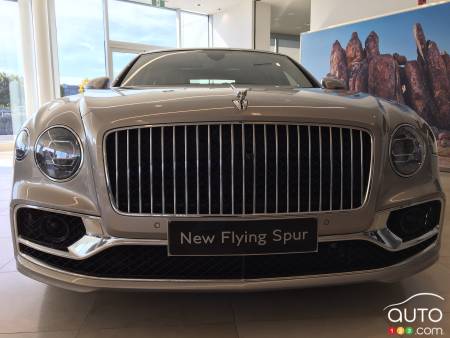 Some physical changes
From the outside, the 2020 Flying Spur is imposing at more than 5 meters long and sporting a massive silhouette. At the front we see LED matrix lights inspired by the recent Continental GT crystal effect. New B-shaped wraparound rear lights and 22-inch wheels add style. Bentley's characteristic Winged Detachable Statuette (to avoid theft) decorates the hood for the first time in recent history, perched on top of a glossy black grille with a chrome outline.
A palace
Opulence is the first word that comes to mind when describing the interior, a space that bathes in the comfort and richness of its materials. Both modern and spacious, it will make you feel rich simply by being aboard.
With a press of the start button, the centre section of the wood veneer dash rotates to reveal the industry's first-ever rotary display, consisting of a customizable 31.2-cm three-section touchscreen and three analogue dials - one for the outside temperature, one to serve as a compass and another a stopwatch.
For the first time in a production car, we get three-dimensional padded diamonds inspired by those found in the Bentley EXP 10 Speed 6 concept. The new diamond-motif knurling of the rotary knobs adds a decorative touch made possible by the invention of a software algorithm for working on complex curves.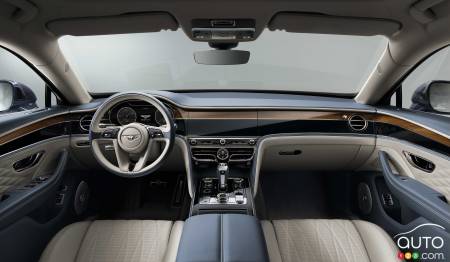 Extreme comfort
The seats of the 2020 Flying Spur are heated and ventilated with a multimode massage function, adjustable cushions and tilt of the upper part. The rear seats feature a retractable centre armrest and a hand-deployed central headrest that can be hidden away to increase visibility when not needed. Having your back massaged while listening to the 2,200-watt Naim audio system is a unique experience.
12 cylinders
V12 engines remain the ultimate symbol of automotive prestige, but in an industry that transforms at high speed, these are doomed to early extinction. Bentley pays no heed, though, including here its unique 6.0L W12 that develops (for the 2020 model) 626 hp and 664 lb-ft of torque. This 2.5-ton beast is capable of doing the 0-100 km/h in 3.8 seconds and will push up to 333 km/h, if the police don't arrest you before you get there. Bentley retains its reputation as a sports-inspired luxury car.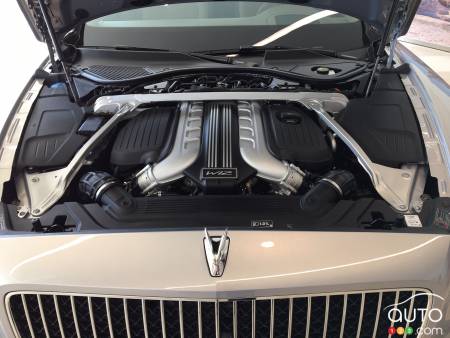 The car once again features all-wheel drive, but it's electronic for the first time. This feature offers increased maneuverability and handling. The new three-chamber air suspension provides access to a variety of additional suspension settings and a multitude of new integrated driver assistance systems, elevating it beyond all others in terms of comfort, power and luxury driving.
Conclusion
The new Flying Spur sets new standards for customization and luxury concepts in its market with an unprecedented range of paint colours, leathers, wood veneers and options, offering virtually unlimited combinations for all tastes. If ordinary luxury is not enough for you, there's Bentley and its 2020 Flying Spur, the well-equipped W12 version of which will set you back just over $ 300,000.