News regarding the big return of the Toyota Supra has been cropping up regularly over the last year or two. This month we weren't really due for another bit of news, since the Supra is scheduled to get its big reveal next month at the 2019 North American International Auto Show in Detroit.
That was before the first image of the camo-less 2020 Supra started making the rounds on the internet in the last few hours. So here's our first good look at the revived model, a joint Toyota-BMW project.
The image taken by an enterprising photographer shows the front end of the car as it sits inside of a trailer. What's striking at first glance is how closely the model hews to the FT-1 concept first unveiled in Detroit in 2014, this despite all that's been said and done since that time. The bumper features large air intakes and the front end gets headlights that stretch to the middle of the car. The hood, for its part, is less sculpted than what we'd seen on the earlier prototype.
Unfortunately we don't get to see the car from any other angles; for that we'll have to wait for the Detroit show.
Speculation is that the Supra will get an inline-6 engine from BMW. It could be supplemented by an electric unit later on in the production cycle in a hybrid variant. The Supra will be rear-wheel drive and work with either a 6-speed manual gearbox or a 6-speed automatic transmission.
The next time we bring up the Supra, we should have all the details for you as part of our reporting from Detroit – unless there are other leaks before then!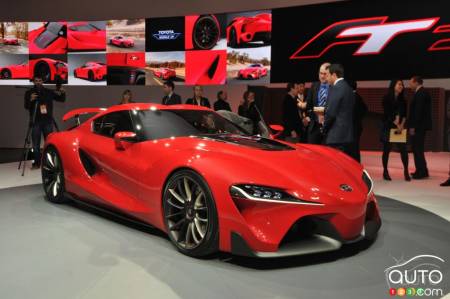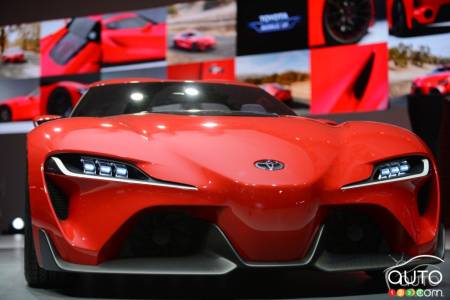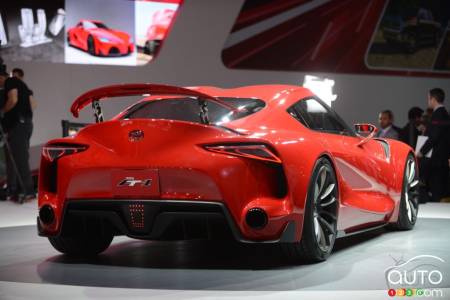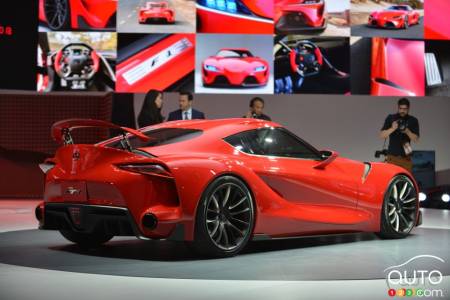 Photo gallery of the Toyota FT-1 concept