Last week we reported on a possible four-door incarnation of the Ford Mustang coupe. This week it's Audi's turn, and in this case it's much more of a sure thing. The German automaker's next version of the Audi TT will feature four doors.
This is quite a major change for the car, a ground-breaking release when it was first introduced by Audi in 1998. Now, 20 years later, it will get the chance to break ground again by switching from a coupe to a sedan.
From the company's point of view, this was a move that had to be made if the TT is to survive. Sales of coupes and convertibles are down in the key markets targeted by Audi, namely Europe and North America. As for that perpetually emerging market China, two-doors and convertibles have never caught on there like elsewhere. As a result, it would simply not have been profitable to put out a fourth generation of the TT without making some substantial changes to its DNA.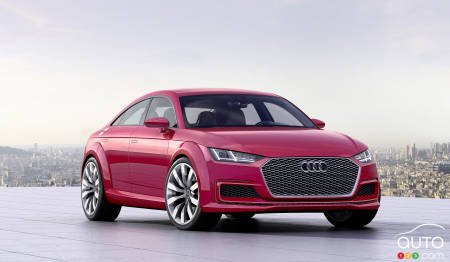 The question in fact is not if it will happen, but when. Those following the project closely believe that the car could debut at dealerships towards the end of 2020. It would take the general form of the TT Sportback concept showcased at the 2014 Paris Motor Show.
The new TT will sit on an updated version of the MQB platform that already underpins the current model. The new edition will in the doing become a daunting rival of the Mercedes-Benz CLA. Of course, we will in the process say goodbye to the convertible version.
In all likelihood, we should bet on Audi using one or other of the auto shows coming up in the year as a springboard for a production or close-to-production version of the next TT. If we had to wager, we'd say the Frankfurt show in 2019.