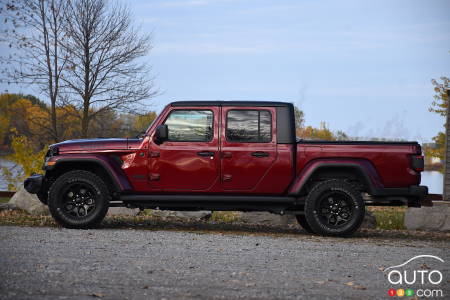 • Auto123 reviews the 2022 Jeep Gladiator Willys.
• The Gladiator Willys is priced close to $60,000.
• A 3.6L V6 engine comes standard with this model.
• A few standard features are added to the Gladiator offering for 2023, including keyless entry and an integrated garage door opener.
Prior to 2007, the year the four-door Unlimited variant of the Jeep Wrangler was introduced, there was essentially only one Wrangler. The one that had stood the test of time, the good old two-door Wrangler. Yes, there were trim levels, namely the Sport, Sahara and Rubicon, but the range was simple.
Since then, things have exploded with the arrival of models and variants, each more special than the last. Then, in the fall of 2019, Jeep presented the Gladiator, the pickup version of the Wrangler. It also adopts a lot of signatures, so it's easy to get lost in it.
We are witnessing some serious multiplying of loaves here, for one good reason: Jeep's Wrangler lineup is profitable. In all, between the Wrangler and its Gladiator offshoot, there are 22 variants on the menu for 2023. Unfortunately, none of them are what you would call "cheap". These models may all offer a lot in terms of capabilities, but they also ask a lot in terms of pounds of flesh.
We recently got behind the wheel of a 2022 Jeep Gladiator in Willys configuration. Note that the model remains the same for 2023.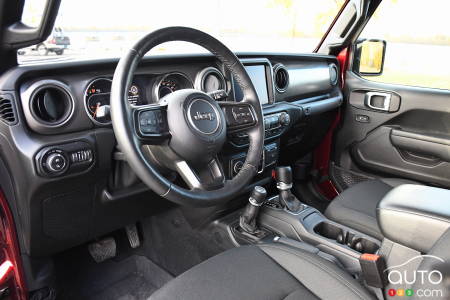 Positioning and pricing
The Gladiator lineup is six deep in 2023. The Willys sits second from the bottom, ahead of the Sport S model and behind the Overland variant. The others are the Rubicon, Mojave and High Altitude. The top-of-the-line version is priced at $71,480 with shipping and handling. That's starting to get expensive for a toy like this.
As for our Willys tester, its lower position in the lineup means it's not as expensive, but with all the fees, the bill does come to $59,930.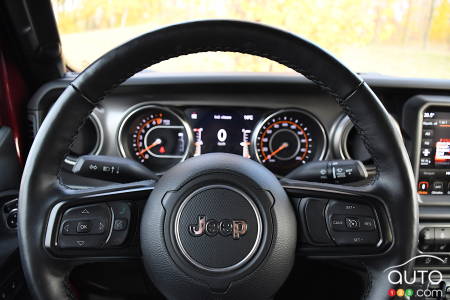 Is it too much for this vehicle? In my humble opinion, yes. Far too much, in fact. That was our first impression when the Gladiator first launched, and our opinion hasn't changed since. How do you explain its good sales results, then? Like the Wrangler, it has the merit of offering something different. For those who like to venture off the beaten path and who are into outdoor weekend rides with their hair blowing in the wind, the Gladiator remains unique.
Notably, no other pickup truck gives you the option of removing roof and doors. Aside from the ZR2 version of the Chevrolet Colorado, no other mid-size pickup can follow a Jeep Gladiator deep into offroad territory. And of course, none of them has a look as unique as the Jeep's. In a world of so much grey, it's easy to understand the appeal of this type of model.
It's not by chance that other manufacturers are introducing off-road variants to their lineups. Consumers are asking for them. Ford has in the Bronco produced a strong opponent for Jeep's Wrangler. There are no Bronco pickups at the moment, though, which leaves the field open for Jeep.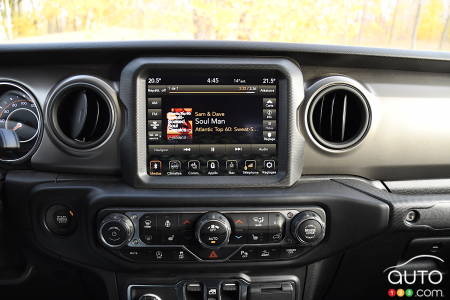 Another reason the high price tag doesn't seem to scare buyers too much has to do with resale value. Because it's so high, it makes for "reasonable" monthly payments (if you can accept that a $70,000 price tag for a pickup is now "reasonable").
The Willys
And what does the Willys variant offer? The standard engine is a 3.6L V6 delivering 285 hp and 260 lb-ft of torque. Some may be surprised to learn that a 6-speed manual transmission is standard, with the option of an 8-speed automatic transmission. Otherwise, this version is offered with 17-inch aluminum wheels (black finish), a black-finish sport grille, heavy-duty shocks front and rear and 17-inch wheels belted with 32-inch BF Goodrich all-terrain tires.
This sells the product's adventurous side, but it translates into a less enjoyable ride. The tire that offers the perfect compromise between off-road driving and great comfort on the road still doesn't exist, so you have to live with it.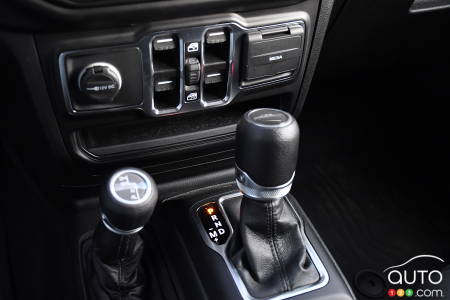 For 2023, the Willys version now comes standard with keyless access, 7-inch information screen in the driver's instrument cluster, remote start and an integrated garage door opener.
Of interest to buyers, the Jeep Wave owner loyalty program extends to the 2023 Jeep Gladiator for the first time. It offers consumers specific benefits. For example, the three-year membership program includes up to six oil changes and tire rotations, trouble-shooting phone assistance, breakdown assistance, and the first day's rental fee for another vehicle when traveling.
Of course, if the Gladiator is on your radar, you probably already know which version you're interested in. If you're not sure which one to choose, try out different versions with different tires. One will fit you better than others.
As far as the drive goes, it's unique, but it's also still slightly unrefined. The Ford Bronco does a little better in that regard. That's part of the charm of this vehicle, though. You either like it or you don't, and it leaves no one indifferent. You'll know it as soon as you get behind the wheel.
Personally, I love it, but in small doses.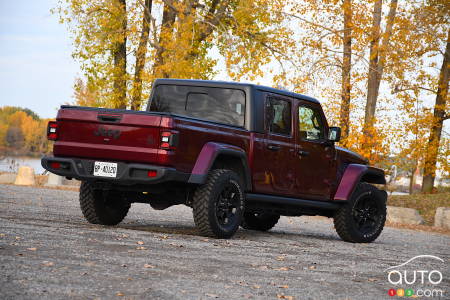 The final word
The Jeep Gladiator isn't for everyone and its clientele is often already won over. The only advice is to choose the right version for you, which requires rigour during the shopping stage.
This is not easy with a vehicle whose purchase is not at all rational.
We like
Unique styling and ride
Towing capacity
Competence off the beaten path
A convertible, if needed
We like less
A very rough ride
Fuel consumption remains high
A very expensive price range
The competition
Chevrolet Colorado / GMC Canyon
Ford Ranger
Nissan Frontier
Toyota Tacoma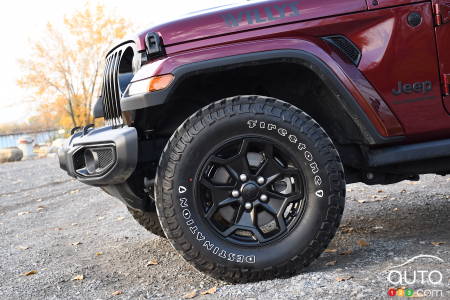 Some of your questions about the Jeep Gladiator Willys:
Does the Jeep Gladiator offer good handling?
Well, no. You can't say it's an industry leader. You have to drive this model with that in mind. It's fun to drive, but there's nothing athletic about its road manners.
What other engines are available with the Jeep Gladiator Willys?
The 3.0L EcoDiesel V6 is available with this model, and it offers 260 hp and 442 lb-ft of torque.
Is the Jeep Gladiator a reliable vehicle?
The Gladiator is on Consumer Reports' list of the 10 least reliable models. This result is largely based on the results of the Wrangler cousin. Let's just say that under warranty, you have more peace of mind.
Specifications sheet of 2022 Jeep Gladiator Willys 4x4