When the third generation (2004-2009) appeared, lo and behold it was longer again, plus it had a longer wheelbase. Our market received a new 2.5L turbo engine to boot. At this point the Legacy name was dropped, as was the Outback sedan. This made for a simplified product offering, consisting now of the Legacy sedan and an Outback wagon. In 2007, the Outback was named co-winner of the Car of the Year award (shared with Ford's Mondeo), as determined by the inimitable Jeremy Clarkson, host of a little old British TV show called Top Gear.
Engines were the story for the fourth generation (2009-2014), as the 6-cylinder engine grew from 3.0 to 3.6L. The offer continued to include the naturally aspirated 2.5L, but not the turbo engine. This generation also marked the debut on our market of Subaru's EyeSight suite of active safety systems, though that collection of features was of course far more modest in scope than it is today.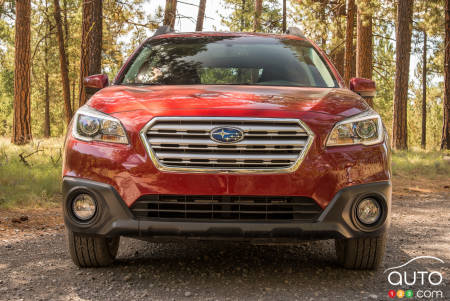 On to generation five (2014-2019), slightly longer but not wider, nor higher or with any more ground clearance (it remained at 200 mm). Introduced here was the torque vectoring system that refined the work of the AWD system. Notable now was the impressive cargo space (502 litres, or 1,848 litres with the seats down), the secret compartments beneath its floor, and the introduction with great fanfare of the StarLink system via which one could project the display of one's smartphone on the 7-inch multimedia screen. You can't stop progress!
The sixth generation (2019-today) made its big entrance also at the New York Auto Show. It is built on the new SGP (Subaru Global Platform) platform, advertised as stiffer than its predecessor. Gone is the 3.6L 6-cylinder in favour of a turbocharged 2.5L 4-cylinder, borrowed from the larger, 7- or 8-occupant Ascent SUV. Its output of 260 hp places it some ways ahead of the existing naturally aspirated 2.5L engine (182 hp), still included in the product offering. Meanwhile over in Europe, consumers no longer have a diesel version to kick around anymore. Everywhere, purists bemoaned the disappearance of the manual gearbox.
This is the version of the Outback we have today, of course. Except that, late in 2021, Subaru had another twist for us: the introduction of the 2022 Outback Wilderness edition. Which brings us to our current long-term review, started officially today.
Stay tuned for more!