Specifications sheet of the 2023 Infiniti QX55 LUXE AWD
Specifications sheet of the 2023 Infiniti QX55 Essential AWD
Specifications sheet of the 2023 Infiniti QX55 Sensory AWD
Vehicle category: Luxury Compact SUV
Fuel consumption according to Infiniti (city/highway): 10.5L/100 km, 8.3L/100 km
Consumption observed by Auto123.com (city/highway): 10.1L/100, 8.5 L/100.
Engine: 2.0L, 4-cylinder, 268 hp and 280 lb-ft of torque
Fuel : Hi-octane (Super)
Transmission: (CVT) Continuously variable transmission with shift-by-wire technology
Warranty: 4-yr/100,000 km basic warranty, 6-yr/110,000 km powertrain warranty.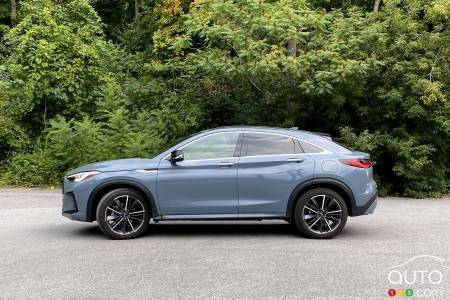 The 2023 Infiniti QX55: What's new?
This version of the Infiniti QX55 marks the third year since the introduction of the initial concept. Among the new features compared to last year, the semi-automated ProPilot Assist driving assistance system is now included as standard, as is the leather interior for all trim levels.
2023 Infiniti QX55 prices
Luxe: $54,895 MSRP
Essential: $58,895 MSRP
Sensory: $62,395 MSRP
Safety and technology
The 2023 Infiniti QX55 is equipped with a number of standard safety features, including ProPILOT Assist. This driver assistance system integrates intelligent cruise control, a hold function and steering assist. In active mode, ProPILOT Assist can intervene when driving on single highway lanes and in dense traffic conditions.
The Essential model of the QX55 adds a traffic sign recognition system and features LED headlights with an adaptive front lighting system. The Sensory model includes a head-up display that projects information onto a 9-inch area of the windshield, making it easy to view essential information without having to take your eyes off the road.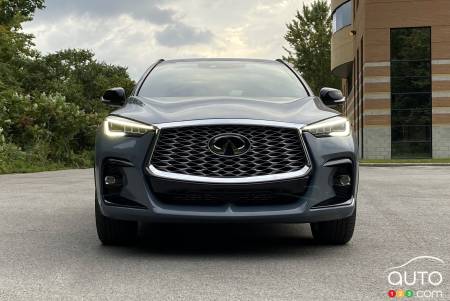 The 2023 Infiniti QX55: Our driving impressions
Entering its third year on the market, the Infiniti QX55 2023 is positioned as a Multisegment focused on luxury and performance. The model offers a full range of standard features, including new comfort options, aimed at enhancing the overall driving experience. However, there are some limitations in terms of performance and handling.
The QX55's 2.0L turbo engine delivers 0-100 km/h acceleration in 7.1 seconds, which is competitive in its class. However, the CVT transmission has serious shortcomings, sometimes resulting in gear changes that can feel unnatural, and consequently less fluid. The adaptive steering system, while innovative, also has its drawbacks. We found the steering feel to be imprecise on the freeway.
Which version of the Infiniti QX55 2023 to choose?
We recommend the Essential version for its good value for money. For a relatively modest price increase over the Luxe version, it offers top-of-the-range features such as air-conditioned front seats and a panoramic vision camera.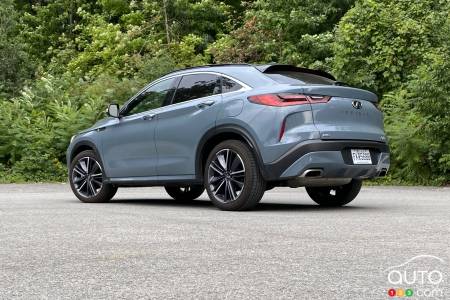 2023 Infiniti QX55 competitors
The final word
The 2023 Infiniti QX55 offers an interesting combination of comfort, luxury and interior space, but shortcomings in performance and driving feel means the SUV may not meet the expectations of all consumers, especially those who want a dynamic driving experience. On a few levels, the current QX55 remains far behind the competition.
Strong points
Very well equipped
761 litres of cargo space, very attractive for a coupe
Very comfortable ride/li>
Spacious interior layout/li>
Attractive exterior styling/li>
Weak points
Lack of CVT refinement
Quality of some interior materials
Completely outdated multimedia interface
Soundproofing inferior to competitors