• Auto123 reviews the 2023 Lexus NX 350 F Sport.
When the Lexus NX was redesigned for 2022, it finally had the tools to separate itself – just a little – from its bigger brother, the popular RX. That SUV has been such a massive seller that Lexus has became known for it and little else. To some extent, all other Lexus products suffer from the shade the RX casts, but the NX, being so close in size to the RX, and having a similar group of buyers, has probably had the tougher hill to climb.
The redesign it got for 2022 certainly gave it a boost, but now that the RX has had a redesign of its own, can the NX withstand the heat?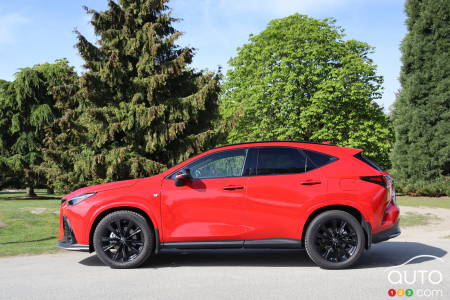 Design of the 2023 Lexus NX 350 F Sport – 8,5/10
The latest NX still has the big "hourglass" grille emblazoned with the traditional Lexus "L" badge, though the redesign brought new headlights that now house the DRLs and headlights under the same lens, foglights, clamshell hood, different wing mirror design and a more tailored look overall.
Out tester's F Sport package brings with it a dark grille flanked by black intakes. It also has black 20-inch wheels and matching wheel-arch mouldings that do look awesome set against the bright Redline exterior paint. Its so cool-looking it may be the coolest-looking Lexus crossover ever, if not the coolest-looking Lexus this side of the LFA supercar or LC grand tourer.
The rear fascia sees the Lexus badge replaced by large LEXUS scripting, in keeping with a popular trend seen in the crossover world these days. It's complimented by a full-width taillight bar which provides a lower, wider look overall.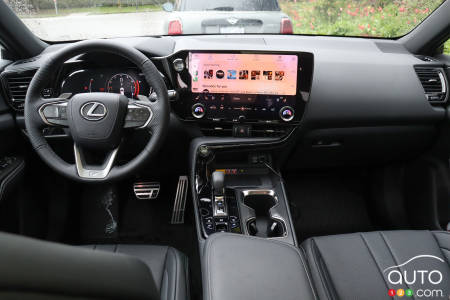 Interior of the 2023 Lexus NX 350 F Sport – 7,5/10
Interior space is good both front and back – but it's especially noteworthy in back, since the lack of the full-length moonroof does mean more rear headroom. The seats are comfortable – as you'd expect from Lexus – and there's no less passenger space in the PHEV than there is in other NX models.
The debut of the new NX also meant the debut of a new Lexus infotainment system. The Lexus Interface as it's called was as needed by Lexus as the Toronto Maple Leafs need to win a few playoff rounds.
The fiddly, sort-of-but-doesn't-really work touchpad-slash-cursor system is gone, replaced by a touchscreen interface.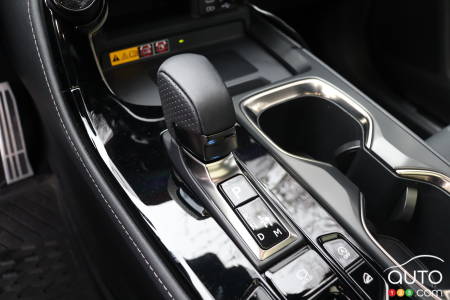 Technology and safety in the 2023 Lexus NX 350 F Sport – 9/10
And what a screen! The new graphics and OS are great (and the processing power is five times faster than previous, according to Lexus) but just look at the size of the thing. That's an optional 14 inches of swept area (up from 9.8-inch as standard) courtesy of the $6,050 F Sport Series 2 package on our tester, and it sits closer and angled towards the driver. Before, the old system's widescreen display sat too far and too high on the dash to comfortably reach from the driver's seat. It was never as bad here as it was in the RX, but either way, it's much better now.
That package also adds wireless charging, wireless Apple CarPlay and Android Auto, premium synthetic leather seating, HUD, a host of driver aids ranging from automatic high beams to lane change assist and rear cross-traffic alert, as well as a blind spot system.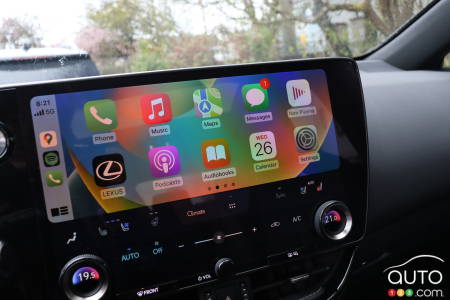 Both Apple CarPlay and Android Auto interfaces span the entirety of the display. Even though the apps take up that much space, the climate controls remain, made up of a combination of a touch interface and traditional dials.
But even the dials get a digital display within them to better integrate them with their surroundings.
If you want more than just the basic temperature, heated/cooled seats and heated steering wheel controls, there's a sub menu that can be accessed via swiping up from the base of the display that provides more in-depth controls such as an Eco climate setting.
It's all good, but I think a couple of buttons either side of the volume knob below all that for the seek/skip controls would be nice to have.
Other displays include a digital rear-view mirror (important in smaller vehicles so tall rear passengers or loads don't obstruct your rear outward visibility) and heads-up display.
Which brings us to a bit of a curiosity when it comes to the NX. Unlike what you'd typically expect, the steering wheel-mounted controls – F Sport also brings a special steering wheel - typically used to navigate the gauge cluster (partially digitized, in this case, and not much different than previous) are actually used to navigate the HUD, which is where you look to modify your gauge cluster's contents. Seems a bit backwards, doesn't it?
Other slight interior issues include some slightly weird control placement. When I first stepped in, it took me a good two minutes to find the engine on/off button, for example, and I repeatedly reached for the leftmost climate knob instead of the actual on/off button. The electronic door releases – both inside and out -- took some getting used to as well.
I'm a fan of the virtual assistant you get, which allows for issuing commands ranging from turning up the heat, to finding and navigating to the nearest sushi joint. Another cool feature is how you can have the navigation system automatically send an ETA message to whomever you're on your way to visit, assuming their contact info is in your paired device. The system also recognizes a multitude of accents and can tell whether it's the front passenger or driver issuing commands.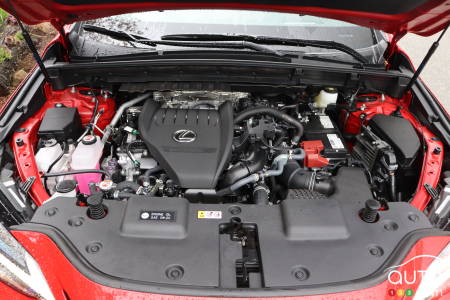 Powertrains of the 2023 Lexus NX 350
Power for the NX 350 comes courtesy a 2.4L turbocharged 4-cylinder engine good for 275 hp and 317 lb-ft of torque, just about right for a vehicle of this size. Yes, the 450+ plug-in hybrid (PHEV) model has a little more kick, but that system also adds weight, which makes for a slightly less involved ride and results in no sunroof option, Lexus not wanting to add even more weight on top of the hybrid system.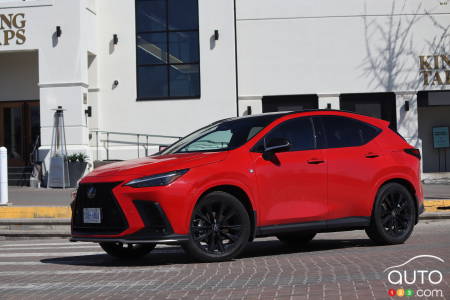 How does the 2023 Lexus NX 350 F Sport drive? – 7,5/10
With the NX 350, take-off from stop is linear and robust, the 8-speed automatic transmission working well in unison with the motor to get you quickly to the meat of the powerband (at about 1,700 RPM) and with just enough drama to make you feel like you're driving slightly on the sportier side.
F Sport brings no power change, but it does add an adaptive variable suspension - one of the aspects tweaked by switching from between the four drive modes, Eco, Normal, Sport and Sport Plus. The result is a compact crossover that handles like a compact crossover should, with well-weighted steering that I found to be surprisingly generous when it comes to road feel. That's not always something that can be said for luxury vehicles with electric power steering systems.
It's most evident in Sport mode – where I'm not too ashamed to say, I spent most of my time. Activate some of the less committed modes and things soften up just enough to make an able city and highway cruiser, if one that could use just a little more interior space.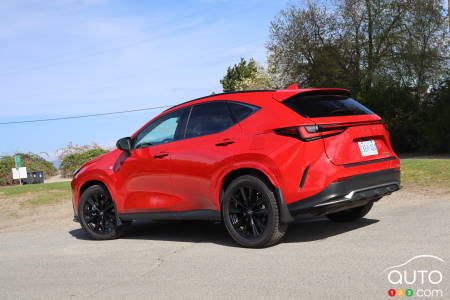 Some of your questions about the 2023 Lexus NX 350
Is the 450+ the only other engine choice?
No. For 2023, there is also a NX 350h traditional hybrid model. There's also an entry-level NX 250 model.
Can I spec an F Sport package for any NX model?
Not quite. Every model except the NX 250 has an F Sport option.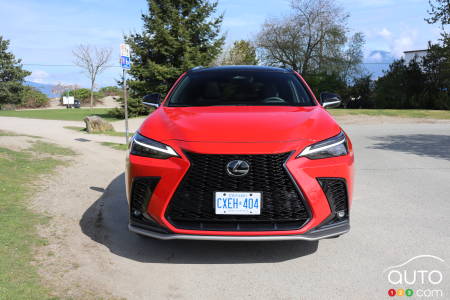 The final word
The Lexus NX may have quite the shadow sitting just above it in the line-up, but far be it from that preventing it to shine. The look is right on from the proportions to the detailing, the ride provides a nice mix of the fun and the comfortable and with that old Lexus bugaboo – its in-car infotainment – addressed, the package is a robust one. Add the flare of the F Sport model, and you have a nice touch of uniqueness to go with all that. The RX-what?
Strong points
F Sport package adds athletic flair
Red paint and dark wheels a great combo
Latest Lexus Infotainment is very good
Surprisingly spacious up front
Punchy turbo motor
Responsive steering
Good roll control
Weak points
Back seat is snug
Digital gauge cluster could be more colourful
Door releases awkward
Ride can be on the firm side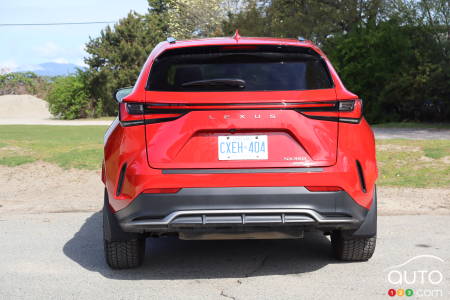 Competitors of the 2023 Lexus NX
Audi Q3
Cadillac XT4
Infiniti QX50
Mercedes-Benz GLC-Class
Volvo XC60