The 2024 Acura Integra Type S, the most powerful sedan produced by the Japanese premium brand in its history, was recently presented to the press, but without a price tag attached. Today Acura Canada confirmed its arrival date at dealerships, but more importantly, at what price it will be offered.
Starting next Monday (June 19), buyers will find the high-end counterpart to the Honda Civic Type R at dealerships, priced at $55,600.
See also: 2024 Acura Integra Type S Is Introduced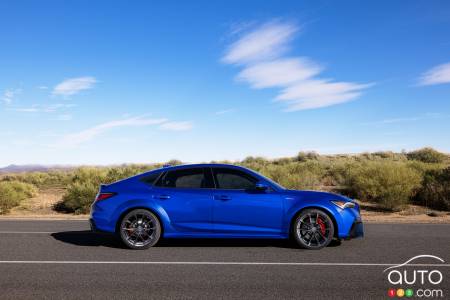 This new version of the Integra becomes the fourth Type S variant launched by Acura in recent years. Its heart, of course, lies under the hood, where sits a 2.0L turbocharged 4-cylinder offering 320 hp and 310 lb-ft of torque. That's 120 hp and 118 lb-ft more than the regular Integra gets. What's more, the only gearbox offered is a six-speed manual. This transmission benefits from downshift synchronization, a system designed to make all drivers feel a little more like racetrack pros.
A limited-slip differential efficiently transfers engine power to the road.
The pricing is around $5,000 more than the Honda Civic Type R. It's up to you to decide whether Acura's exclusivity is worth the difference.
As for how widely the models will be distributed, we'll have to see - Honda Canada's website still mentions that access to the model is very limited.
We're not expecting miracles, but there will certainly be some accessibility to start with.