Los Angeles, CA - Hyundai today unveiled its all-new 2024 Santa Fe at the Los Angeles AutoMobility show. Embracing the theme "Open for More", this model introduces an innovative design that includes a wider tailgate opening and a spacious interior. Hyundai also promises an enhanced driving experience.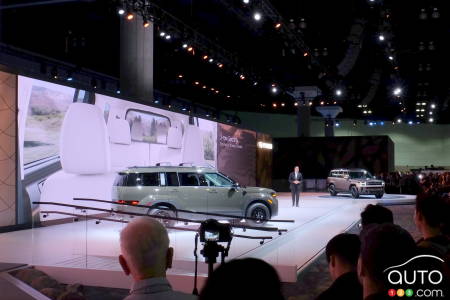 A design that calls out to the outdoors
The new 2024 Santa Fe stands out with an enlarged tailgate opening, the idea being to create a seamless transition between the vehicle's interior and exterior. This feature transforms the space once reserved for storage into a "terrace" relaxation area, merging interior comfort with the outdoor environment.
The longer wheelbase and expanded tailgate of the Santa Fe translate into generous space. This is still an urban SUV but it's more closely adapted for outdoor adventures.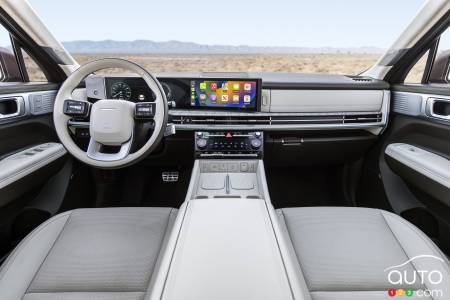 Technological innovations and user experience
Inside, the Santa Fe incorporates horizontal and vertical design elements conceived to amplify visual balance. Features include a dual wireless charging system for smartphones. Wireless Apple CarPlay and Android Auto interfaces come standard. A powerful USB-C port with a maximum charging rate of 27 watts and a third-row USB port are also available.
The available Over-The-Air (OTA) update system allows for updating various vehicle systems with the latest software from major controls without a dealership visit.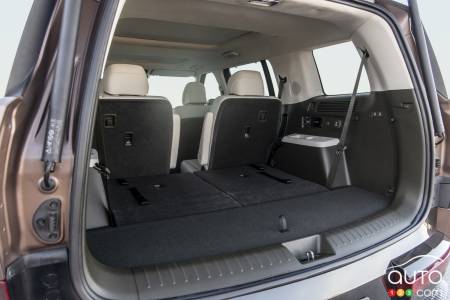 Environmental commitment and versatility
This model adopts environmentally friendly materials for its interior and exterior surfaces, emphasizing an eco-friendly approach. With impressive cargo capacity and an interior space transformable into a terrace, the Santa Fe offers remarkable versatility for urban adventures and outdoor escapades.
Safety and driving assistance
Equipped with advanced safety features such as collision avoidance assistance and lane-keeping assistance, the Santa Fe ensures safe and confident driving, whether in the city or on more adventurous roads. You also get:
- Intelligent speed limit assistance
- Rear visual monitoring
- Rear cross-traffic collision avoidance assistance
- Front and rear parking distance alert
- 360-degree camera system
- Intelligent remote parking assistance
- Safe exit assistance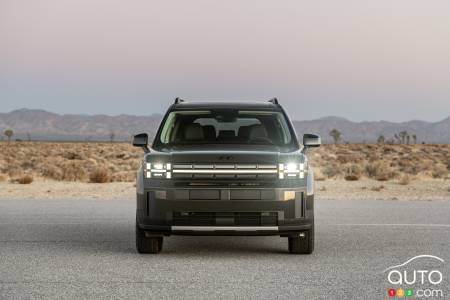 2024 Hyundai Santa Fe powertrains
The 2024 Santa Fe is available with a choice of engines. The standard powertrain is a 1.6L turbo hybrid engine paired with a 6-speed automatic transmission, providing an estimated combined combustion engine/electric motor output of 232 hp and a maximum torque of 271 lb-ft.
A 2.5L turbocharged engine is also available, paired with an 8-speed dual-clutch transmission, with an estimated output of 277 hp at 5,800 rpm and 311 lb-ft of torque at 1,700–4,000 rpm.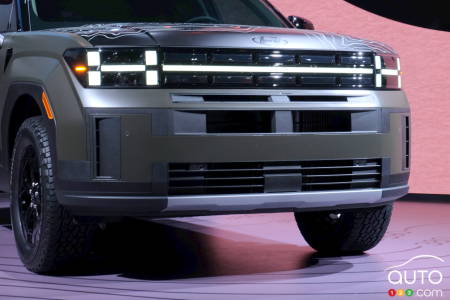 Premium XRT version
The XRT version is designed to conquer rough terrains while offering great versatility for various outdoor activities. In addition to the Santa Fe Calligraphy version for upscale urban lifestyles, the XRT with reliable capabilities is designed to satisfy adventure enthusiasts. It features dark chrome and black exterior trims, including black roof rails with crossbars for a rugged and adventure-ready appearance.
The XRT also comes with 30-inch wheels fitted with 245/60R18 all-terrain tires.
The XRT has an increased ground clearance of 1.4 inches, and when equipped with the towing package, it offers a towing capacity of 4,500 lb.
Auto123 had the opportunity to drive the new 2024 Santa Fe 2024, and we will have a first drive review for you on November 28, so stay tuned.