Hyundai has unveiled its updated 2024 Sonata sedan for North America.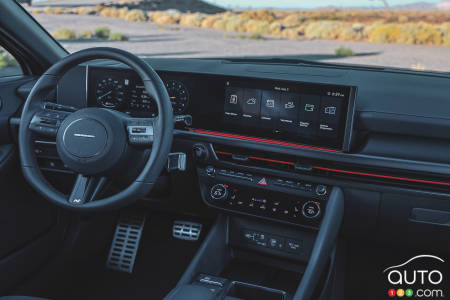 The 2024 Hyundai Sonata: what's new?
The 2024 Sonata arrives with a number of updates and upgrades. New features include the introduction of a curved screen for the dashboard, which combines driver information and the infotainment system.
The optional Bose Premium audio system, which now includes 12 speakers and uses updated CenterPoint 360 technology, has been fine-tuned by the Bose engineering team to deliver enveloping sound quality to every seat.
Finally, Apple CarPlay and Android Auto are now available wirelessly on all models.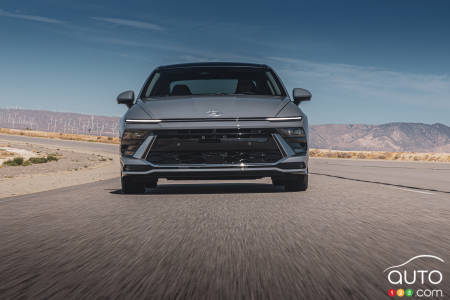 Powertrain, traction and safety
For the first time, the Sonata offers an HTRAC all-wheel drive option coupled with a 2.5L engine. This option enhances performance and safety by adapting torque distribution between the front and rear wheels according to driving conditions.
The HEV model now features the e-Motion Drive system, which is said to enhance the driving experience by adjusting several of the car's parameters, such as torque distribution, regenerative braking and gear shifting, to deliver a smoother, more comfortable and energy-efficient ride.
In terms of safety, the car is equipped with numerous driving aids such as forward collision avoidance assist, lane departure warning and intelligent cruise control, among others.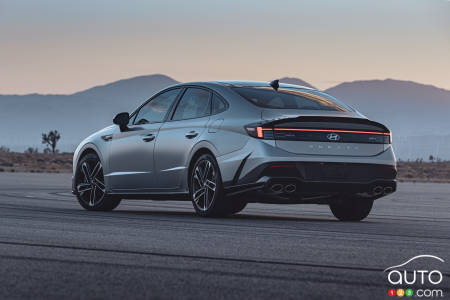 2024 Hyundai Sonata styling
The exterior design has been made more aggressive with a long hood and enlarged grille. The Sonata 2024 also adopts coupe styling with improved aerodynamics.
Inside, the emphasis is on a driver-centric environment with a new "floating" theme. The materials used and the ambient lighting create a modern, comfortable atmosphere.
The technology
The 2024 new Sonata offers an advanced user experience with features such as the digital key, which uses Near Field Communication (NFC) to lock, unlock and start the car via smartphones and smartwatches. In addition, Over-the-Air (OTA) software updates continue to enhance convenience by enabling owners to keep their vehicles up to date easily and economically.
The model will go on sale in winter 2024. Pricing will be announced closer to the model launch.