• Mercedes-Benz presents a refreshed version of one of its lesser-known models, the E-Class All-Terrain.
If there's one model that goes unnoticed within the Mercedes-Benz range here in North America, it's the All-Terrain version of the E-Class. For 2024, the wagon may well get a little more attention. The revised model gets an interesting styling overhaul, as well as other improvements to the interior and the technology on offer.
The setting for Mercedes-Benz' reveal of the refreshed E-Class All-Terrain was the Munich Motor Show, on now.
The high-stanced wagon has slightly larger dimensions than the E-Class sedan, but the difference is negligible: this one's 0.6 inch taller, 0.2 inch longer and 1.0 inch wider. Where it stands out is with its off-road drive modes, features not found with the sedan, of course. The model is also equipped with air suspension as standard equipment. This automatically lowers the car by 0.6 inch above 120 km/h, to improve aerodynamics and fuel efficiency.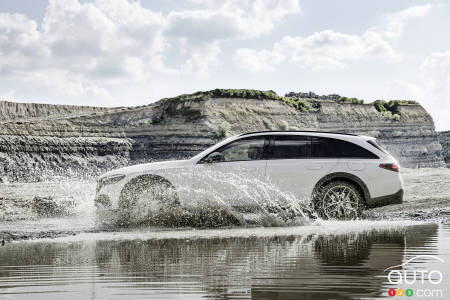 Under the hood, this off-road solution features a 3.0L turbocharged 6-cylinder, which benefits from a lightweight hybridization system. Combined power is rated at 375 hp and 369 lb-ft of torque. A 9-speed automatic transmission is once again responsible for sending this cavalry to all four wheels.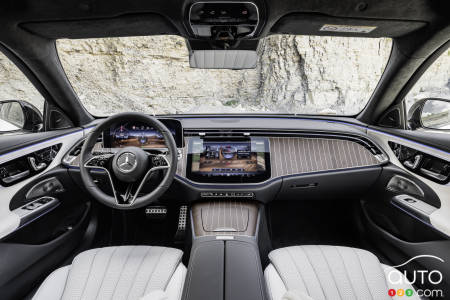 On board, we find a multitude of screens, no surprise there, while options include adding a screen in front of the passenger seat. The off-road driving mode activates the 360-degree camera system and features a "transparent hood" that gives the driver a better view of the ground in front of the vehicle. Mercedes-Benz says a new processor powers the screens, which only adds to the speed of what can be found on them, including everything to do with the navigation system. The latter relies on a 5G model for live updates and connectivity functions.
The All-Terrain model is of course equipped with the latest driving aids, such as a driver attention monitoring system and forward collision warning with automatic emergency braking. Lane-keeping assistance, blind-spot monitoring and speed-limiting assistance are also available as options.
The model is expected in North America in early 2024. Pricing and other details of the Canadian model lineup will be announced at that time.