The 2025 Volvo EX30 all-electric compact SUV will be offered starting at $53,700 when it hits the Canadian market next summer. In so doing it will further expand Volvo's EV lineup, which currently includes the C40 Recharge, XC40 Recharge and XC90.
That starting price of $53,700 means the EX30 is priced some $6,000 below the XC60. It also makes the model eligible for federal and provincial EV discounts, where applicable.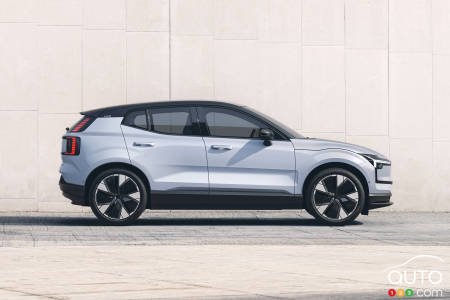 Buyers have the choice of a single motor, rear-wheel-drive model with an extended range, as well as Plus and Ultra trims, which offer various amenities and performance upgrades while still maintaining a range of up to 442 km, according to EPA testing (the twin-motor, AWD version delivers 426 km).
The twin-motor version, available in Plus and Ultra trims, provides all-wheel drive and a 0-100 km/h time of just 3.6 seconds, making it the fastest-accelerating Volvo car to date. Output from this EX30 is given at 422 hp and 400 lb-ft of torque.
The EX30 offers customization options, with five exterior colours in the offering (Moss Yellow, Cloud Blue, Vapour Grey, Crystal White and Onyx Black)..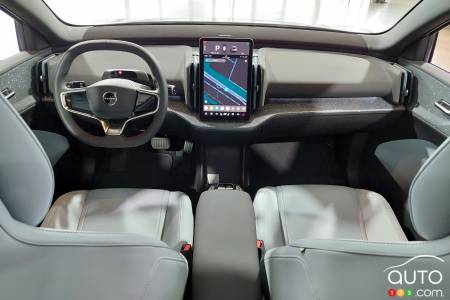 Inside, the SUV emphasizes simplicity and elegance. The environment combines natural and recycled materials, offering four interior design expressions and five ambient light themes inspired by Swedish landscapes. Tailored for the Canadian market, the EX30 includes standard heated steering and front seats.
Safety- and tech-wise, the 2025 Volvo EX30 gets a host of standard features, for instance:
Google built-in;
Wireless Apple CarPlay;
Driver Alert System with Blind Spot Information System;
Door Opening Alert;
Front & Rear Collision mitigation;
Heated steering wheel and heated front seats.
Optional packages, such as the Plus and Ultra, add premium sound system, panoramic roof, advanced driver assistance features, larger 19-inch wheels and a two-tone exterior finish (Onyx Black for the top) and more.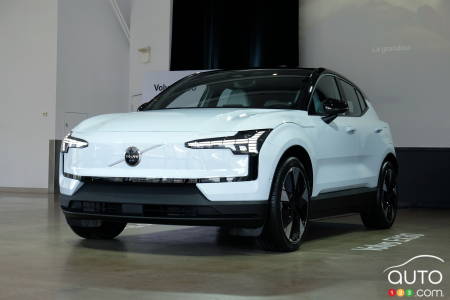 Volvo vaunts not only the EX30's performance and features but also its commitment to sustainability. Volvo examined the lifecycle of the EX30 to reduce its carbon footprint.
Reservations open this fall, at which time consumers can expect additional details about the newest addition to Volvo's electric lineup. Volvo says deliveries will start summer 2024. Auto123 will be test-driving the model in the coming weeks, so stay tuned for a first review.
Pricing for 2025 Volvo EX30
EX30 Single Motor Extended Range Core (base model) - $53,700 CAD
EX30 Single Motor Extended Range Plus - $56,900
EX30 Single Motor Extended Range Ultra - $59,100
EX30 Twin Motor Performance Plus - $59,900
EX30 Twin Motor Performance Ultra - $62,100