Mercedes presents the 2026 Mercedes-AMG GLE 53 Plug-in Hybrid.
AMG is expanding its lineup with the new Mercedes-AMG GLE 53 Hybrid plug-in model. For its manufacturer, this vehicle added a new element to the range thanks to its balance of power and performance, fuel efficiency and everyday adaptability.
The model will be produced in both SUV and Coupe versions. Mercedes is talking about a European and American launch late in 2025, but only in 2026 in Canada. For consumers here, this is a model that's still on the rather distant horizon.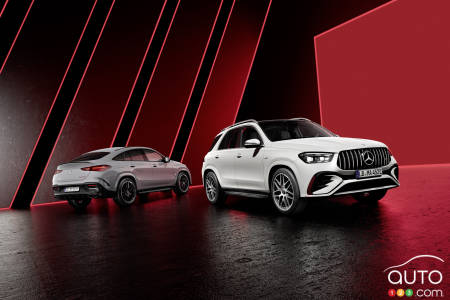 A unique position in the Mercedes range
The Mercedes-AMG GLE 53 is a strategic addition to the Mercedes-Benz range, designed to offer a hybrid alternative to performance enthusiasts. According to Michael Schiebe, Chairman of the Mercedes-AMG Management Board, this new version of the GLE forms "an additional pillar in our future-oriented portfolio". This is a model aimed at new targets, in other words, but not at the cost of compromising the AMG brand's values of driving pleasure and agility.
Performance combined with fuel efficiency
Powered by a specially optimized 3.0L in-line 6-cylinder engine, the GLE 53 Hybrid delivers 443 hp. With the addition of a 134 hp electric motor, total combined output rises to 536 hp. This configuration enables acceleration from 0 to 100 km/h in 4.7 seconds, with a top speed electronically limited to 250 km/h.
Thanks to its 31.2-kWh battery, the GLE 53 can also run in all-electric mode at speeds of up to 140 km/h under certain conditions.
Note that the GLE 53 will not be the most powerful of the GLE AMG Class. The GLE 63 S is powered by a 4.0L twin-turbo V8, combined with the same plug-in hybrid system as the GLE 53, delivering 603 hp.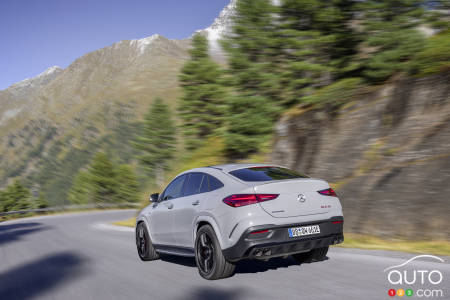 In addition to its performance, the GLE 53 Hybrid is equipped with a range of comfort and safety features. The AMG RIDE CONTROL+ suspension, specially developed for this model, offers a dynamic and balanced driving experience.
The MBUX interface displays hybrid-specific information, including charge status and electric range.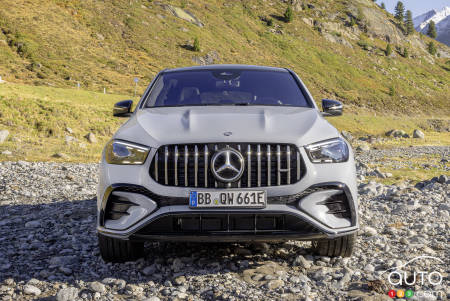 Design of the Mercedes-AMG GLE 53 Hybrid
Aesthetically, the GLE 53 stands out for its hybrid-specific elements. The front fascia is designed to optimize aerodynamics, while the hybrid badges are a reminder of the vehicle's dualistic nature. Inside, the emphasis is on ergonomics and modernity, with displays adapted to hybrid technology.
The 2026 Mercedes-AMG GLE 53 Hybrid will arrive at Canadian dealerships "early in 2026".