• Auto123 gets in a first drive of the 2024 Mercedes-AMG EQE SUV.
Carlsbad, CA – Up until now, AMG has been the home of Mercedes-Benz's mechanical wizards, focused on delivering incredible ICE-based performance. Now, the Affalterbach-based division is going electric. After its EQS and EQE sedan models, it is now applying the same formula to SUV versions of the EQS and EQE.
AMG's raison d'être is still power and handling, and performance dominates the conversation when it comes to the EQE SUV. The question is: Is this the right direction for electric vehicles going forward? Right now, automakers working in the performance EV domain are proceeding via trial and error. Time will tell if this – and equating electric with performance more generally - is the right approach.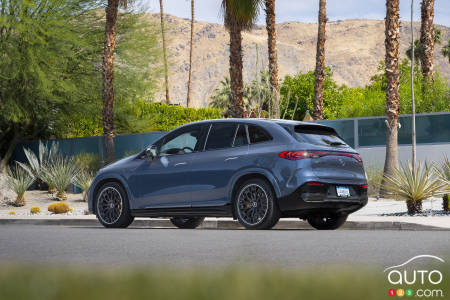 Exterior of the 2024 Mercedes-AMG EQE SUV
Physically, the EQE SUV resembles big brother the EQS SUV, except in a more streamlined style. This gives the silhouette tauter lines and a slightly sportier overall look.
The Mercedes logo on the hood is replaced by the AMG logo. The Pan-American-style grille is also unique to AMG models, as are the larger wheels.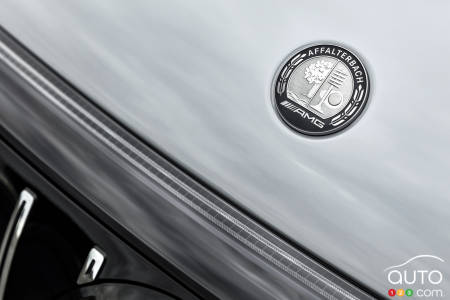 However, these differences are quite subtle, and at first glance it will be difficult to tell the difference between a regular model and an AMG version.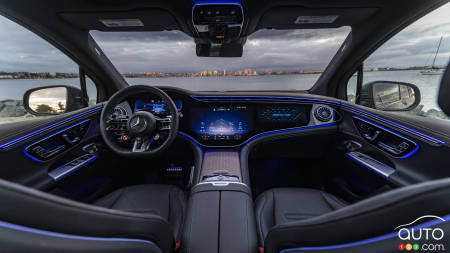 Interior of the 2024 Mercedes-AMG EQE SUV
The interior is hardly different from that of the EQE sedan, with the exception of a few AMG-themed elements and a more high-end feel overall. High-quality materials such as the sport seats in Artico leather with AMG emblem stand out. Genuine Nappa leather is available as an option.
Speaking of options, our tester featured the hyperscreen, a 56.0-inch behemoth incorporating three screens and which extends across the dashboard, and here with an AMG-specific treatment. Two side-by-side screens and wood trim are standard.
If you're a music lover, the Dolby Atmos audio system comes as standard and offers more than impressive sound. Even better is the Burmester system, which delivers concert hall-level sound.
Rear seating is decent without the space being all that generous, and cargo volume ranges from 580 to 1,675 litres if you fold down the rear seats.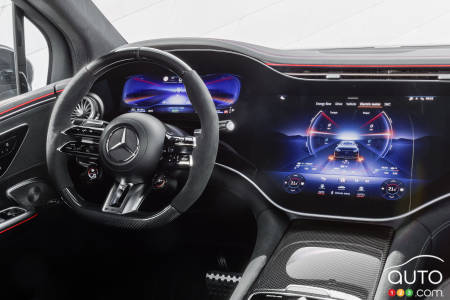 Technology and safety in the 2024 Mercedes-AMG EQE SUV
Technology encompasses a lot, of course. We won't bore you with a long list of electronic driving aids. Suffice to say Mercedes is a leader in this field, and AMG models offer everything you can imagine.
We will take a minute to dawdle on the question of the driving sound profiles. Because since electric vehicles don't produce noise like an ICE vehicle does, manufacturers are adding it, and AMG is trying to put some performance into the sounds.
We're a long way from the walls of sound produced by gasoline engines, and the industry is still in its infancy in terms of this technology. It's hard to describe the sound of these artificial sounds. Each driving mode has its own. The default sound resembles an autumn breeze, that of Sport+ mode closer to that of a spaceship. You can also choose the intensity of the sound.
In terms of the drive, technology is present to give you the option of three regeneration modes, which range from none to some to a lot. Single-pedal driving varies regeneration and physical braking according to proximity to traffic. The same applies to the brake pedal in general, which moves according to regenerative force. It has to be said, this leads to an inconsistent feel at different speeds and deceleration rates.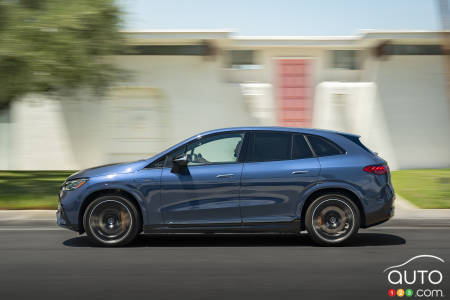 Versions and configurations of the 2023 Mercedes-AMG EQE SUV
The AMG version, like all the brand's other products, offers both the highest level of technology and performance. Like AMG's ICE models, the electric variants come with a more-powerful generator. Who says AMG also says higher price tag, and all this technology comes at a price.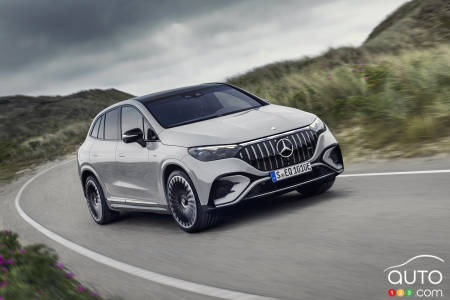 Powertrains of the 2024 Mercedes-AMG EQE SUV
As standard, you get a pair of motors producing 617 hp and 701 lb-ft of torque. If you opt for the Dynamic Plus package, output rises to 677 hp and 738 lb-ft of torque, via the Overboost function. This means you can hit 100 km/h in just 3.5 seconds, and accelerate to 240 km/h.
Under the floor is a battery with a useful capacity of 90.6 kWh.
Mercedes estimates total range at 370 km, which is not particularly impressive for a brand directly targeting Tesla, capable of almost 200 km more.
The electrical system is based on a 400-volt architecture, and recharging power is 170 kW at a fast terminal. According to Mercedes, this allows recharging from 10 to 80 percent in 32 minutes.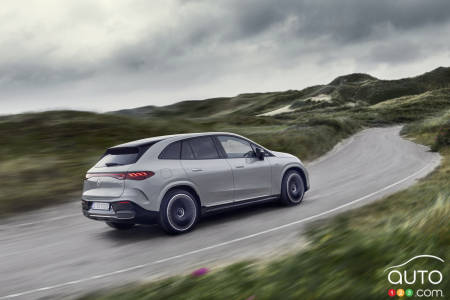 Driving the 2024 Mercedes-AMG EQE SUV
It was Colin Chapman, founder of Lotus, who said that weight is the worst enemy of performance. And that means a bad start for any electric car.
In this case, even if you get off to a blistering start, you still feel like you're driving a steamroller. AMG uses all kinds of creative tools to camouflage the 2,690 kg of this elephant on wheels. In addition to the electronically controlled all-wheel drive, which checks and adjusts the power distribution 160 times a second, you have the standard rear-axle steering, which can turn up to 9 degrees, which reduces the turning radius to camouflage the SUV's size and make it easier to take curves and corners.
Adaptive air springs offer three different levels of stiffness (Comfort, Sport and Sport+), but we felt less difference between these modes than with comparable gasoline models; even at the stiffest level, there's still a hint of underlying smoothness.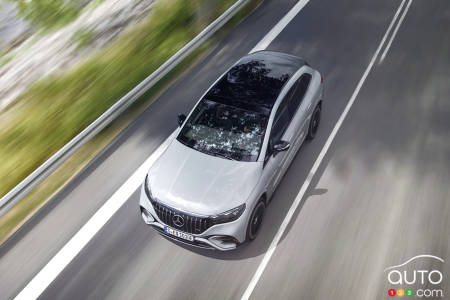 You also have anti-roll bars for each wheel. Each bar is linked to an actuator that optimizes suspension travel according to road conditions to maximize comfort, and also helps the chassis to behave better on winding roads.
Note that the AMG EQE's full power is only available in Sport+ mode; Sport mode limits the output from the motors to 90 percent, Comfort mode to 80 percent and Slippery mode to half power.
Clearly, all these tricks give the AMG EQE SUV surprisingly good handling, but at the cost of a huge array of complex and expensive electronics.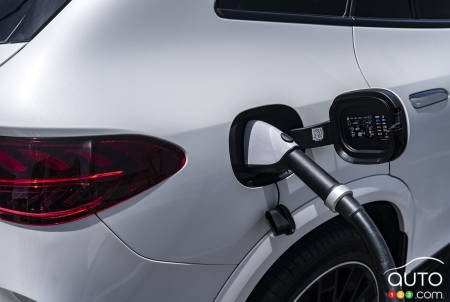 The final word
We're still a little puzzled by the performance obsession that's taken hold in much of the EV world. Yes, the AMG EQE SUV is fast, maneuverable and can even make noise - well, some noise. We were a little confused by the four driving modes, three suspension settings and three electronic noise volumes. That's over 36 possible combinations.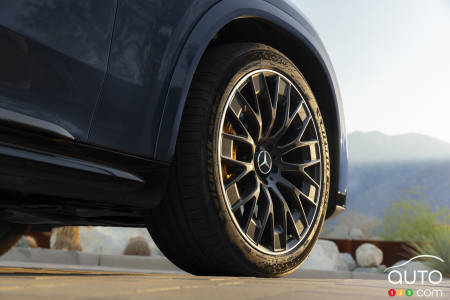 Questions about the Mercedes-AMG EQE SUV
For as long as gasoline-powered cars have existed, manufacturers have always found ways to push power higher, but is this approach appropriate with an electric model? Instead of trying to go faster and drain the battery more quickly, we should first find a way to go further, to maximize range before thinking about going faster and less far. A performance-based approach still seems incompatible with the primary vocation of an electric vehicle.
Be aware that this AMG version will probably start at around $130,000. The model is set to arrive on the market towards the end of the year.
Strong points
High technological content
Comfortable ride
Impressive hyperscreen display
Weak points
Substantial weight
Unimpressive range
The pricing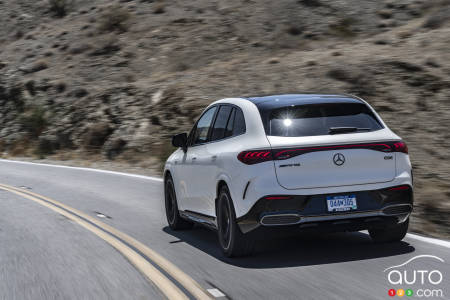 Competitors of the 2024 Mercedes-AMG EQE SUV